The highway to Big Sur, home to several of the most scenic American National Parks  is a jaw-dropping, once-in-a-lifetime trip that features blue skies and endless beaches, then stunning mountain ranges and epic forest parks.
 
It's utterly idyllic, in other words, a 'get out of your car and just marvel at what you're seeing' coastal drive you will never forget (and now that Highway 1 has finally reopened again after extensive construction work what's stopping you?)
14
They say people who grew up around Big Sur often hew close to it for life and you can understand why. The place sears itself into your memory from the moment you arrive. 
Coasting down Highway 1 from San Francisco to Santa Barbara is easily one of the world's great journeys. You'll see surfers, beachcombers, seals and eagles in landscape that is impressively pristine.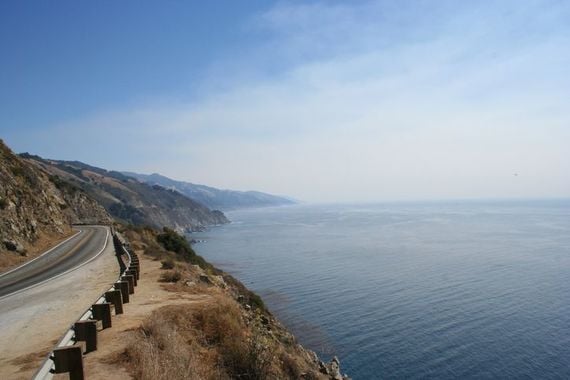 14
But for the Irish, and particularly those from Donegal, it can look like a home away from home. Granted, California weather is usually much sunnier than Donegal's, but the experience of turning a corner on another meandering road and having your jaw hit the floor over what's revealed to you is very much a familiar thing for people who grew up in Ireland's northernmost county.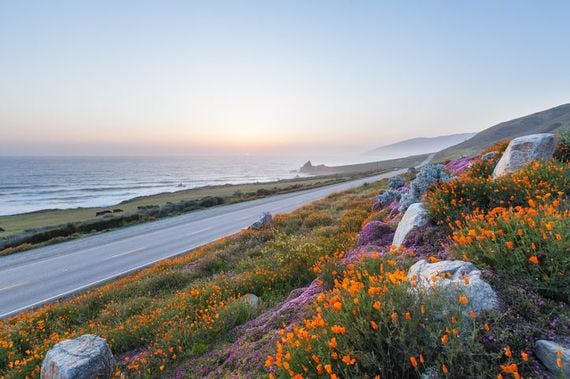 14
Call it
Donegal West
. Irish people visiting California's Big Sur coastline for the first time might be surprised to find themselves feeling unusually at home in this epic and unspoiled landscape. I'm sure our enterprising Irish Tourist Board are already twinning it with
Slieve League
 and the
Wild Atlantic Drive
.  
At Big Sur as in Donegal, it's all in the the scale of the surrounding hills and the dramatic coastline, in the way the light falls over the ocean at sunset, both guaranteed to give some Irish people a very welcome feeling of déjà vu, even though they are 6,000 miles and an ocean away from home.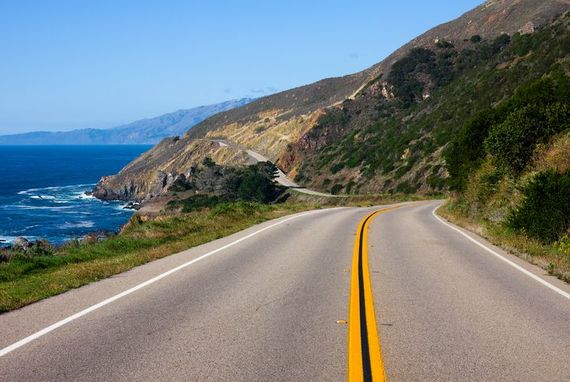 14
Come here with a significant other, or
come here to get hitched
, or come with your family or friends on the trip of a lifetime, the one thing I can assure you is that you'll never forget your stay. 
WHERE TO STAY 
We recommend the perfectly located (right on Highway 1) and affordably priced
Glen Oaks at Big Sur
. A prefect mix of camping in the woods meets superior boutique hotel, its motor lodge mid century stylings are both functional and fabulous (think cabin in the woods meets Barney's).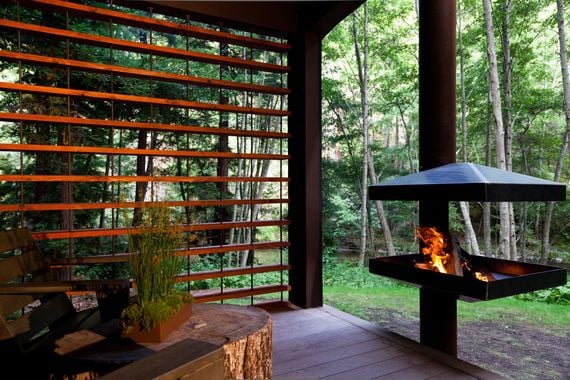 14
Outdoor fire pits (smores kits are laid on) give you that rustic mountain escape feel, just as the enlivening scent of the fresh pine woods will lift your spirits.  
Glen Oaks is located near a stream (you can pull up a seat and splash your feet in it) that gives this location all the 'get away from it all' atmosphere you could hope for.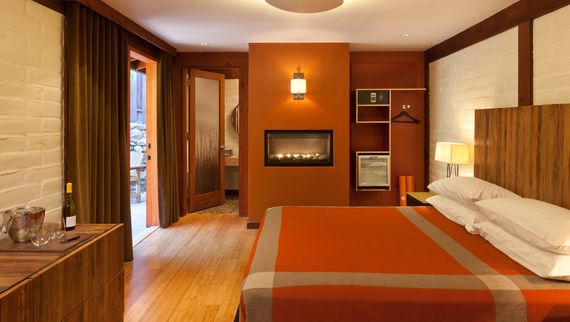 14
From its supremely affordable Adobe Motor Lodge to the splashier higher end secluded cabins with their delightfully enormous beds and showers, it'll be you, your loved ones and countless redwoods in a trip to beat them all.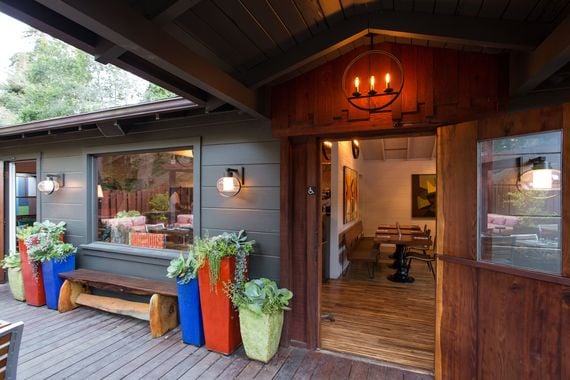 14
Make sure to eat at the
Big Sur Roadhouse
, part of the complex but located further up the road from the cabins. Locally sourced organic breakfasts here are delicious and tastefully presented in a modernist masterpiece of a building.
The adobe walls, Peroba wood, bamboo, resin, wool carpets and organic cotton interiors show the attention to detail that went into the design, making for an all natural environment – and the larger cabins come with fully working kitchens and kitchenware if you're planning a longer stay.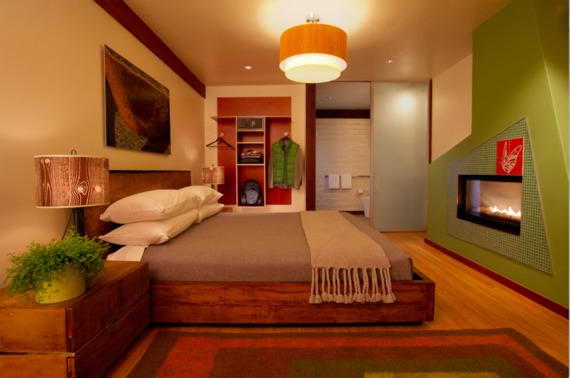 14
Even the huge walk-in showers give you that skinny dipping in the forest vibe, but the heated floors, contrasting chrome and porcelain fixtures will bring all you right back to modernity. Book Glen Oaks, there's no need to look elsewhere. Visit them
by clicking here
. 
HOW TO GET THERE
 
Flying into San Francisco or Los Angles offers the ideal route. These days airlines, with their shrinking seats and creature comforts, don't exactly make it easy for travelers.
 
We suggest you get acquainted with the upgrade options offered by The Points Guy website, which shows you how to use air miles and credit cards to transform your travel experience.

14
We also suggest you pack light. A carry on suitcase will save you a bundle (as well as speed up your commute time, no carousel hell at arrivals) and help get you to your destination refreshed.  
The best carry on case we have found on the market is the
Away Carry On
brand, which brings together form, strength and function in an eye-catching and easy to move around shell.
14
The Away case features  a removable interior 10,000 mAh battery and two exterior USB ports which means you can keep your tech and iPhone charged from terminal to terminal with hours to spare (you'll be glad of it when you can't find an outlet).
The case comes with a detachable laundry bag to separate clean from dirty clothes, a feature you'll appreciate on the road, as well a a compression pad to get the bag shut, a laptop holder and a TSA approved spring lock that will keep your valuables safe.
 
WHAT TO WEAR IN THE AIR
 
Air travel has changed. Not for the better. These days it's impractical to wear heavy suits or elaborate dresses when you're confined to Row D34 in a coach class that more and more resembles a cattle round up.
Pick travel clothes that place the emphasis on comfort, but not a critical loss of style. You don't need to cover yourself in sweatpants with an added neck pillow, no one needs to see your just fallen out of bed look.

14
Instead we highly recommend the
conscientious clothing brand Everlane
, whose modern basics have become a major obsession among the fashion forward. Finding the sweet spot between silhouette, substance and style, their
Everlane Lightweight Travel Chino
will make for a functional and fashionable flight.
Bring along
The Lightweight Travel Chino Short
for sunnier climes and accessorize with the
Nylon Commuter Backpack
(the padded laptop sleeve inside fits a 15" Macbook).
14
The Breton Striped Pullover Tee
is a style perennial that will look good in the air or by the sea, and for those colder flights you can accessorize it with
The Classic French Terry Zip Hoodie
.
14
Some brands have gotten ahead of the curve on how we live now and Everlane is – from pricing to fabric to cut – hands down the best travel and leisure wear company we have found. Check them out by clicking here.