The four young people killed in a tragic road crash in Clonmel, County Tipperary on Friday evening have been named as Nicole Murphy, Zoey Coffee, and siblings Grace and Luke McSweeney. 
Grace McSweeney, Nicole Murphy, and Zoey Coffee (all 18) had received their Leaving Certificate results earlier on Friday and were en route to a Leaving Cert results party in Carlow Town at the time of the tragic accident. Luke McSweeney, 24, was driving. 
Garda Superintendent Kieran Ruane said in a statement that the accident took place at 7:30 p.m. on Friday after the car hit a wall and overturned on Mountain Road. 
"Tragically all four occupants lost their lives at the scene," Ruane said on Saturday afternoon. 
Ruane said gardaí in Clonmel initiated a major incident response with the support of the Clonmel Fire Brigade, HSE paramedics, Tipperary University Hospital, and Tipperary County Council. 
"I want to acknowledge and express my gratitude to my colleagues in An Garda Síochána and the other emergency services who attended the scene last night. The scene was very difficult, in very adverse weather conditions and the professionalism shown by all first responders and the care and respect shown to the four deceased was exemplary," Ruane said. 
Ruane added that gardaí are investigating Friday's crash and urged anyone with images or footage from Mountain Road between 7 and 7:30 p.m. to contact Clonmel Garda Station on 052 617 7640. 
Alternatively, people can come forward through the Garda Confidential Line on 1800 666 111 or through any Garda station. 
Ruane said gardaí had been in touch with the principals of the local secondary schools that the three girls attended and said gardaí would be offering support to friends of the four victims in the coming days. 
Grace McSweeney and Zoey Coffee had recently graduated from Presentation College in Clonmel, while Nicole Murphy attended Loreto Secondary School. Luke McSweeney was a past pupil of Clonmel High School. 
Presentation College principal Michael O'Loughlin paid tribute to his two former pupils Grace McSweeney and Zoey Coffee and said they were both looking forward to the rest of their lives after receiving their Leaving Cert results earlier on Friday. 
"A day of celebration is now replaced by unbearable grief and a sense of great loss for our local community. Our school community is in mourning today," O'Loughlin told the Irish Times. 
"No words can express our sorry, pain and grief. Zoey and Grace were two beautiful students loved by everyone who met them and achieved such excellent results on Friday." 
Loreto principal Anne McGrath described Nicole Murphy as a "beautiful student" who was highly regarded by staff and students at the school. 
Throughout the day on Saturday, friends and family members of the four victims laid flowers at a makeshift shrine at the site of the crash on Mountain Road.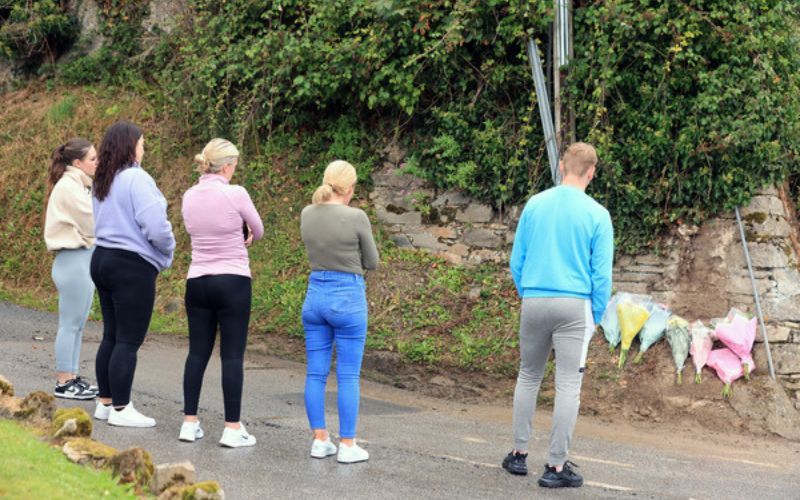 2
A vigil was held in memory of the four victims in Denis Burke Park in Clonmel on Saturday evening, with prayers led by members of the local clergy and Mayor of Clonmel Councillor Richie Molloy.
President of Ireland Michael D. Higgins extended his condolences to the families of the victims in a statement on Saturday. 
"The hearts of all parents and relatives, indeed the whole community, will have gone out to the families of Zoey Coffey, Nicole Murphy and Luke and Grace McSweeney, who lost their lives in a traffic accident in Co Tipperary last night," Higgins said. 
"The grief that has been expressed by the community is nearly unbearable and I send my deepest sympathies to their families, their whole community, those in their year in school and the whole school, its pupils and management." 
Taoiseach Leo Varadkar said the "whole nation" was in mourning following Friday's accident. 
"Leaving Cert results night should mark the beginning of a world of opportunities for young people. It's a milestone on the road from childhood to adulthood," Varadkar said. 
"For young lives, so full of possibility, to be cut short in this way is truly devastating and heartbreaking. The whole nation mourns them."