High gusts of wind led to two separate fatal falls in County Down on Sunday. The men who died have been named as father-of-four Sean Byrne and former police officer Robbie Robertson.
Two men were killed on the Mourne Mountains, in County Down. Both men fell in separate incidents caused by hind winds. The men have been named as father-of-four Sean Byrne and former police officer Robbie Robertson.
In a statement Police Service of Northern Ireland (PSNI) inspector Frances McCullough said:
"Police received a request for assistance after a male was reported to have fallen while walking on Wee Binnian shortly before midday and received a further request for assistance after a male was reported to have fallen while walking on Slieve Commedagh shortly before 1pm.
"Police and other emergency services responded but unfortunately both men died at the scene."
A third man fell in the Mournes at about 2:30 but he was rescued having suffered a broken ankle.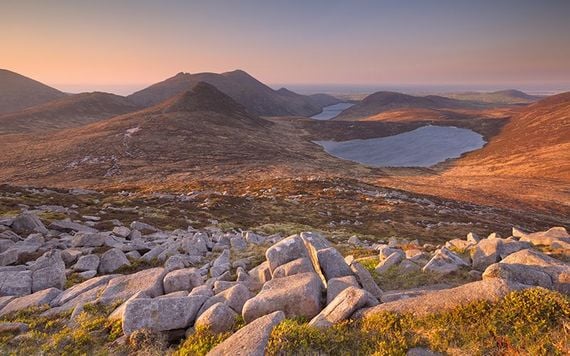 4
Sean Byrne, a father-of-four, from Camlough, County Armagh, fell 30 meters during the hazardous winds at around midday on Sunday, Jan 13.
Rescue Helicopter 116 was dispatched by the Mourne Mountain Rescue Team and arrived quickly to the scene. They were unable to assist due to the strong winds.
Byrne died on the mountain. His body was escorted down by members of the rescue team.
Mark Patience, from the Mourne Rambling Group, was walking in the mountains on Sunday. He told the BBC that his group had been forced to change course due to high winds.
He said "The gusts were extremely strong. There were times where we had to stop and stand still and brace against them.
Patience continued "There's no warnings of these gusts and if they're that strong in the valley it became clear to us that they were going to be much stronger on the summits.
"Strong enough surely to knock people off their feet."
He told the BBC that his group had heard shouts for help and went to see if there was anything they could do. However, because of the cloud, they could not see anything. They contacted the Mourne Rescue Team.
Other walkers in the area also said they had attempted rescues having heard cries for help but were stopped by the poor weather conditions.
4
Byrne was a member of the Craobh Rua Hurling Club, in his hometown of Camlough. The club posted a statement to their Facebook page which read:
"The news of our respected former treasurer and esteemed trustee's death has devastated us all.
"He had a great love for our club and he showed this over the years by the giving freely of his time and experience to help us develop and become rooted within our community.
"He possessed great gifts of commitment, integrity, calmness, and care. He loved his family, his community, Gaelic sport and culture.
"No words we can say will lessen the shock and pain of his family as they struggle to come to terms with this news. However, we will be there for them just as Seán had been here for us over the past thirty years.
"We convey our deepest sympathies to the families of both those killed whilst climbing yesterday in the Mourne Mountains."
The second death was that of former police officer Robbie Robertson who died having slid down a crag (sharp piece of isolated rock) near the slop of Slieve Commedagh, in County Down, the second highest peak in the Mourne Mountains.
Robertson, who was married with a family, lived in Banbridge, County Down. He was a keen walker and coordinated the church fete of Holy Trinity Church in his town, the Irish Times reports.
The Mourne Mountains Rescue was called when one of Robertson's walking companions became cragfast (stuck on the rock) and called for assistance.
On Facebook, the Mourne Mountain Rescue Team wrote:
"A crew was dispatched to the scene and unfortunately found that the fall had again been fatal.
Team members set up a rope rescue to bring his cragfast companion to safety and recovered the deceased with assistance from the PSNI search and rescue team.
The team described two fatal incidents on the same day as an " anomalous situation and our thoughts and sympathies are with the families of the deceased".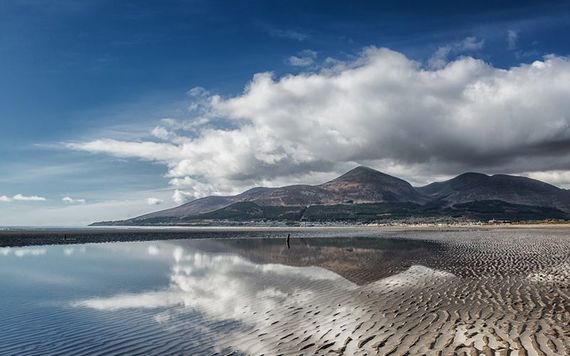 4
Speaking to the Guardian South Down Sinn Fein Member of Parliament Chris Hazzard said:
"The tragic news that two men died today while walking in the Mournes will have shocked the entire local community."
He added "I'd like to commend Mountain Rescue and the emergency services who responded to today's incidents and who also rescued a third walker who got into difficulties elsewhere in the Mournes.
"My thoughts and condolences are with the family and friends of those who tragically died in these incidents in the Mournes today."