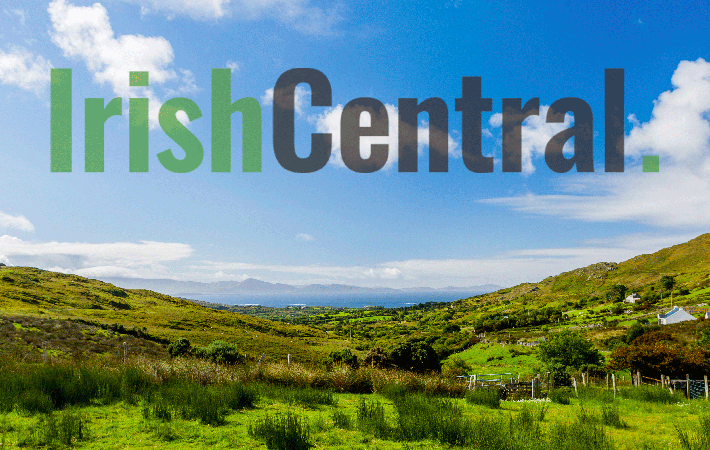 It's not every day a gal from Co. Kerry gets to visit the bright lights of Hollywood for the purpose of work, and it's certainly not every day she gets an opportunity to visit the house that most men dream about in their sleep, a house that only allows drop-dead gorgeous girls through its doors, and a house that if the walls could talk the stories would be something else.

An opportunity arose a few weeks ago that I couldn't turn down.

After seeing a few episodes of the hit E! television show Girls Next Door, which focuses on the day-to-day life of Playboy creator Hugh Hefner and his buxom young girlfriends, I became familiar with Mary O'Connor.

O'Connor is Hefner's personal secretary, friend, housemother and confidant and works in a tiny office in the upstairs of the Playboy Mansion.  She has been a loyal servant to him for more than 40 years.

O'Connor intrigued me even more because she looked so like anyone's Irish grandmother, and as it turns out O'Connor's own grandmother is from Co. Tyrone.

Elated and still in disbelief after securing an interview with her, I enlisted the companionship of Irish Voice resident photographer Nuala Purcell to document our trip.

We left New York on Wednesday, April 7 at 7:30 a.m. After a six-hour flight we landed in sunny LA fresh as daises and ready for what was ahead of us.

Work began immediately. Nuala and I spent the afternoon conducting interviews with Irish immigrants who are trying to break into the movie/television business in LA.

It was all go so an early night was a necessity to prepare for our much-anticipated trip to the Playboy Mansion.

Running just on time, Nuala and I grabbed a light breakfast the following morning and settled nicely into our funny-looking red vehicle.

About three seconds later Nuala noticed a problem. The car wouldn't start. This couldn't be happening.

As Nuala frantically tried to start up the car, I looked at my watch. We only had 58 minutes to get to our scheduled interview. MapQuest told us the journey would only take 25 minutes, but in LA traffic this was going to be a nightmare. Would we make it at all?

Quick thinking had me running across the car park and into an Enterprise office (how lucky we were to have parked the car in the same location as our car rental provider).

A dose of quick verbal diarrhea had the little red headed man behind the counter on his feet in no time.

Yes, as we thought, the car engine had died (no we didn't leave the lights on!)

"I don't have any rental cars at this moment," he said.

"What," I screamed.

"But I do have a truck, an F150," he added.

Before Nuala could say her piece I told the little red head we would take it. Within minutes he had the paper work drawn up and a big roaring tuck (that a lot of Irish burly construction workers travel to Manhattan in every day) at our side.

I'd never seen Nuala drive so fast. My watch was telling us we had 39 minutes to get to our 9:30 a.m. meet.

The gods were on our side this time, and we pulled up to the gates of the famous Playboy Mansion in Beverly Hills at 9:29 a.m. on the dot.

Picture the scene -- the driveway is super narrow, made for little BMWs and Porsches. Our big roaring truck just about made it up the windy road (signs saying "Playmates at Play" welcoming us) and into the front yard of the most famous house in America – well, in California anyway.

As we took in our surroundings briefly we were met with the mansion's press guy, Rob, who kindly gave us a tour of the downstairs before introducing us to the woman of the hour.

Of course I'd seen all the rooms before.  Hef's lounge where he catches up with friends and watches movies, the breathtaking foyer adorned with pictures and cut-outs of Hef and his girlfriends, and the dining room where we conducted our interview with 82-year-old Mary O'Connor.

 

 

ALTHOUGH extremely modest and camera shy, O'Connor kindly agreed to do this once off interview. She doesn't give them much, so we were very pleased when she allowed us into her world.

As previously mentioned, O'Connor's grandmother, Sarah Brigham Taner, emigrated with her siblings from Co. Tyrone in the mid-1800s for a better life in the U.S. They settled in Pittsburgh, and soon enough Sarah feel in love and married a German music professor who lived in America.

O'Connor's father was born in 1896. The family moved around a lot and it was in Berlin, Germany that O'Connor's parents met.

"My mother was studying music in the Berlin Conservatory of Music when she met my father," said O'Connor.

O'Connor's parents finally moved back to the U.S. and O'Connor was born in Chicago as Mary Feuchtinger. The O'Connor part comes from her fourth husband.

Before ever working for the founder of Playboy Enterprises, O'Connor had an exciting life. She married a man 11 years her senior when she was just 18.

"That was a big age difference when you are as spunky as I was," O'Connor joked.

After her first marriage came to an end O'Connor married a further three times, each relationship ending.

However, a little more than 20 years ago, she finally met her soul mate, Captain Bob. I remember him from the show. They are a great couple.

O'Connor moved out to California in 1953 after she separated from her second husband.

"I always wanted to come here. My father's sister was a screenwriter and involved in the movies and that fascinated me," she said.

But it wasn't the movies that caught O'Connor's attention. It was the speed of a car.

It was through her second husband that she fell in love with the buzz surrounding racecar driving. Not only did O'Connor promote road races across the country, she competed several times in them.

As O'Connor's life was steadily becoming hectic she was thrown into the life of playboy bunnies, Hugh Hefner and the excitement and glamour associated with the world of being sexy and rich. 

While serving on the board of advisors of a hospitality magazine she was approached by another board member of take up the position of manager of the Playboy Mansion in Chicago.

After some careful thought, O'Connor agreed to go working for one of the most powerful men in the U.S., and hasn't looked back since.

"I moved to Chicago in 1969 and at the time there were 24 bunnies living in the house," she said.  "It was a whole new experience and a whole lot of fun."

In 1971 Hef purchased the mansion in LA and for a few years O'Connor would travel between the two until he finally moved himself and his bunnies to sunny California.

"I had great fun furnishing this house," O'Connor told us as we looked around.

"It was so much fun going into a store when money wasn't an issue."

O'Connor has been with Hef for more than 40 years and has no intention of retiring.

She works 9 a.m. to 5 p.m., sometimes seven days a week.

It was Hef's birthday on the Friday after we were at the mansion.  O'Connor and her staff were busy putting in place celebrations for a big bash, and then it was off to Las Vegas with the whole lot of them (including O'Connor) to continue the celebrations.

As for the Girls Next Door show, O'Connor said that she wasn't very fond of the idea of being featured on camera every day when she came to work, but she said after a while she became used to it.

O'Connor's day consists of sitting in her office and spending hours meeting with Hef to discuss business issues.

"I see more of Hef than I do of anyone else," she laughs.

O'Connor maintains a strong relationship with several of the previous playboy bunnies, some of whom were Hef's girlfriends.

This is particularly true for her relationship with Kendra Baskett. O'Connor has appeared on the show Kendra several times.

"The girls know I'm here if they need me," she told us. showing her motherly side yet again.

O'Connor is no stranger to Ireland. In 1986 she visited the south with Captain Bob and thoroughly enjoyed it, but had one regret.

"We didn't get to go up to the north of Ireland where my family are from," she said disappointed.

However, O'Connor plans to go back for a little over a week next year with her friend Jason McGimpsey and explore the land of her grandmother.

"That's really important to me," she said. "I'm really looking forward to that trip."

As our interview came to a close I asked Rob if Hef was anywhere in the mansion. He was! Upstairs in his sleeping quarters.

He normally doesn't rise till after 11 a.m., at which time he joins O'Connor in her office to run through the day's business.

We left the Mansion that day feeling excited but also proud that an Irish American woman is part of the reason Hef is so successful, grounded and so full of devilment.

 

 
Interested in a job in finance? Search for roles in Ireland now