Refugee Rescue, an Irish charity, is putting to sea in late January to carry out search and rescue operations in the Central Mediterranean. 
Refugee Rescue says it was involved in saving almost 1000 migrants last year and has rescued over 16,000 people including families and children since 2015.
Now, the Irish charity is fundraising for essential maintenance and repairs ahead of their next mission.
View this post on Instagram
The organisation is partnering with the German NGO Sea-Eye, which operates the SEA EYE 4, a ship that has been specially fitted for search and rescue with an onboard hospital and emergency accommodation. The ship patrols waters in the Central Mediterranean, where 1,377 were reported missing whilst trying to cross to Europe in 20221, according to data from the Missing Migrants Project.
With their fast rescue boat Mo Chara (Irish name for 'My Friend'), Refugee Rescue launch from the ship to bring people safely on board.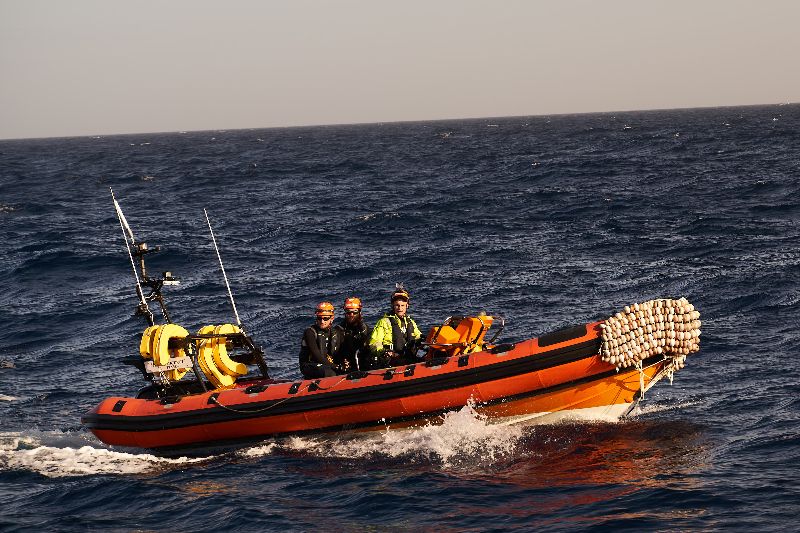 2
Refugee Rescue co-founder Joby Fox welcomed the upcoming partnership with Sea-Eye: "Our presence on the SEA EYE 4 ensures the capacity to rapidly deploy fast RHIBs [Rigid Hulled Inflatable Boat] with vital search and rescue personnel on board.
"The partnership is a testament to good cooperation on the basis of our joint humanitarian ethos."
Refugee Rescue and Sea-Eye are part of a fleet of civil search and rescue ships that are acting in response to a gap in efforts to save lives in the Mediterranean. Many of the people they rescue are crossing from war-torn Libya, often traveling there from other parts of the world including West Africa, Syria, Afghanistan, Pakistan, and Bangladesh. 
A male refugee who was rescued last year said: "In Libya, I've been robbed at gunpoint, shot at, taken advantage of… some have been sent to prison, kidnapped or sold.
"On the boat at sea, every minute is an emotion and sometimes you feel like your body is about to give up… we headed north but we had no idea of the accurate direction."
As part of its fundraising campaign, Refugee Rescue is auctioning an original oil painting on canvas of a rubber boat at sea by artist Dan Hemmings. The campaign will run across Refugee Rescue's Instagram, Facebook, and website.