Two Navy players with deep ancestral ties to Ireland will take on the Fighting Irish of Notre Dame at Dublin's Aviva Stadium this Saturday during the 2023 Aer Lingus College Football Classic. 
Midshipmen tight end, DJ Donovan, and wide receiver, Colin Patrick O'Connor - as their surnames suggest - can both trace their ancestry back to the Emerald Isle, making Saturday's game at the Aviva even more special. 
The renewal of the Notre Dame-Navy rivalry on Saturday has left some difficult decisions for Donovan's family, some of whom studied at Notre Dame. 
"Approximately 25 family members are out for the game. I don't know if they're all rooting for Navy, but I hope they're all rooting for me," Donovan said at a media day on Thursday.
"A few of them went to Notre Dame. Hopefully, I'll see them tomorrow (Friday) before the game.
Donovan added that it was "surreal" to touch down in Ireland ahead of Saturday's game and explained his ancestral ties to the country.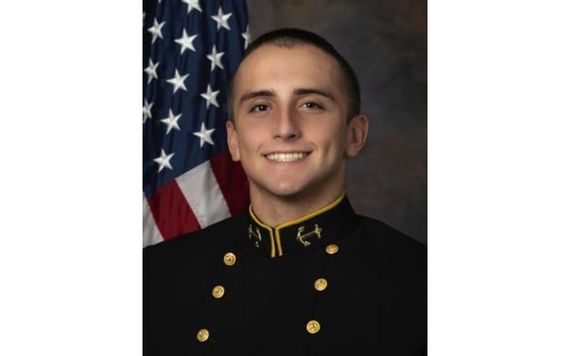 2
"My great-grandfather Dan Donovan was born, in 1910, in Castleisland, in County Kerry. He moved to the US in 1929, with his 12 siblings." 
He said he expects the majority of the 50,000-strong crowd to be rooting for Notre Dame, on Saturday, evening but said he hopes some of the local Irish fans can shout for Navy too. 
O'Connor, meanwhile, said it was "super exciting" to arrive in Ireland for the first time ahead of Saturday's game. 
"This is my first time in Ireland. Everyone else in my family has gone, but Covid stopped my travel to Ireland," he told IrishCentral. 
"It's definitely a full-circle moment for me. It being my senior year and my last year playing football and coming back to the place where my family's heritage is, it's really cool." 
O'Connor said his great-grandparents on both sides emigrated from Ireland to the New York area. 
"We think we still have family here, but we haven't confirmed it. I do have a bunch of family who traveled here, but I'm not sure of any who are actually still here." 
O'Connor added that he was looking forward to playing in a "different stadium and a different atmosphere" on Saturday. He also said he was excited to play on a rugby pitch as his Dad had played rugby when he was younger.