Duke and Duchess of Sussex will visit organizations "central to Irish life" during their July trip to Dublin, including Croke Park, the Book of Kells, a memorial to the Great Hunger and an emigration museum.
Meghan Markle and Prince Harry will visit the Famine Memorial on Dublin's River Liffey quays as well as the EPIC Irish Emigration Museum during their July 2018 two-day visit to Ireland's capital.
Full details of the newlywed's first visit to Ireland as a married couple have been released. The Duke and Duchess of Sussex will visit organizations in Dublin "central to Irish life" during their July 10 and 11 trip to Ireland.
The most poignant among these are the Famine Memorial and the Emigration Center. The Famine Memorial, a collection of sculptures created by Dublin sculptor Rowan Gillespie in 1997, are dedicated to those Irish people forced to emigrate during the 19th century Irish Famine. They are located on Custom House Quay in Dublin's Docklands.
3
Directly across the street is the EPIC Irish Emigration Museum an immersive, interactive museum which tells the story of the 10 million Irish people who have emigrated across the world.
Meghan and Harry will also visit Croke Park, the home of the Gaelic Athletic Association, and the Book of Kells at Trinity College.
The Duke and Duchess of Sussex will visit Dublin, Ireland on 10th & 11th July 🇮🇪 The visit is at the request of Her Majesty's Government. pic.twitter.com/sb8I3iJAOI


— Kensington Palace (@KensingtonRoyal) June 19, 2018

The newlywed couple will also attend a summer garden party at the British Ambassador's residence, at Glencairn House, in Leopardstown, where they will meet people from across Ireland's arts, sports, military and social enterprise sectors.
Read more: Meghan Markle enjoys Guinness and can even pour a good pint
They will also attend official meetings with President of Ireland Michael D Higgins and Taoiseach Leo Varadkar.
In 2011 Queen Elizabeth II made a historic visit to Ireland. It seems that Meghan and Harry's trip to Ireland will include similar elements to her tour.
The Belfast Telegraph reports that it's believed that Prince Harry will try his hand at hurling during his trip to Croke Park. The Queen's visit to the Croke Park stadium was viewed as a landmark moment.
Queen Elizabeth's son, Prince Charles and wife Camilla have become regular visitors to Ireland having made four trips in as many years. The most recent was early this month in June 2018, when they made a trip to Northern Ireland and then traveled to Cork and Kerry.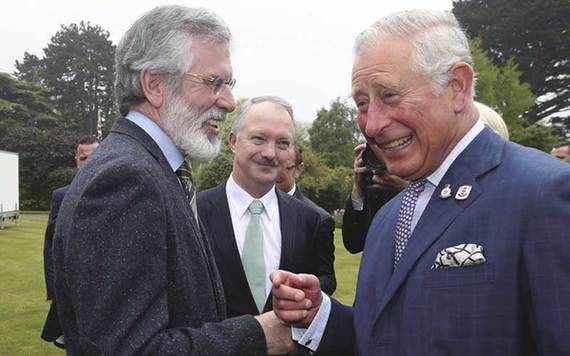 3
Announcing the finalized plans for Harry and Meghan's Dublin trip Kensington Palace said the couple "are looking forward to learning more about Ireland's history and experiencing its rich culture, as well as meeting the people who are shaping the country's future".
Ireland's Foreign Affairs Minister Simon Coveney described the visit as "great news".
"The Duchess of Sussex has been to Dublin before so it's a chance for her to show her new husband around," he said.
"Britain is our nearest neighbor and closest friend and Ireland will be very welcoming of Harry and Meghan as we were to Queen Elizabeth on her state visit as well as Prince Charles and Camilla."
Read more: Harry and Meghan's wedding hiding a horrible truth for Catholics