Kelly Catlin was a world champion and Olympic-medal holder who tragically took her own life last Thursday. Her family has paid tribute to their "warrior princess." 
The family of Kelly Catlin, an Irish American world champion cyclist, is in mourning after revealing the 23-year-old took her own life on Thursday. 
Her father Mark described the Stanford University student as a "warrior princess" and described how recent injuries and a concussion had affected her stating, "part of her undoing was her personal code. She gave 110 percent to whatever she was doing."
Catlin was a member of the U.S. women's pursuit team that won a silver medal during the 2016 Olympic Games and she helped the U.S. team win three consecutive world titles in pursuit between 2016 and 2018. She also had individual success, winning bronze in the individual pursuit at the track cycling world championships in 2017 and 2018. 
Read more: Mental health resources in Ireland and the US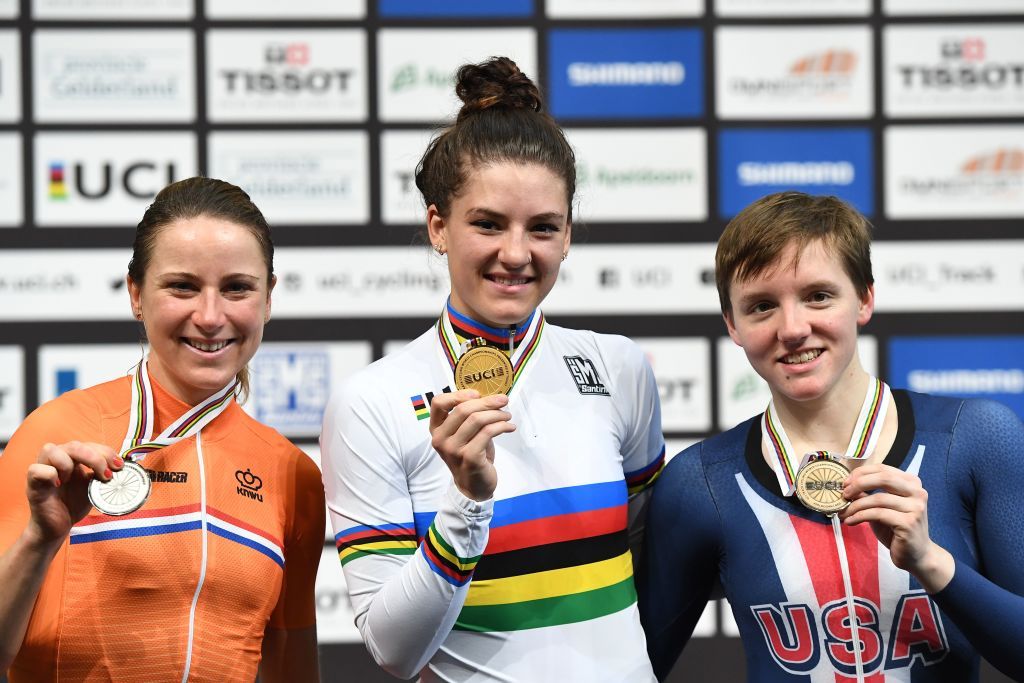 2
The Minnesota native had suffered from two crashes in the last few months, however, and her father said that as a result of the injuries sustained, "She was not the Kelly that we knew.
 "She spoke like a robot. We could get her to talk, but we wondered, 'what has happened to our Kelly?'
" . . . Everything was open to her, but somehow her thinking was changed and she couldn't see beyond, I guess, her depression," he told the Washington Post.
"After her concussion, she started embracing nihilism. Life was meaningless. There was no purpose. This was a person with depression. For her, she could no longer concentrate on her studies or train as hard. She couldn't fulfill what she felt were her obligations to herself, she couldn't live up to her own standards. She couldn't realize that what she needed to do was get away and rest, heal. We were all searching for the magic words, that life was worth living."
The UCI is deeply saddened by the loss of three-time team pursuit UCI World Champion, Kelly Catlin. Our thoughts go out to her family, teammates, and friends. pic.twitter.com/OS551BLWeN

— UCI (@UCI_cycling) March 11, 2019
This was Catlin's second attempt at suicide. She had first tried to take her own life in January, sending an email to her family beforehand who then immediately called the police. 
"She had written this lengthy email [to her family in January] and said her thoughts were racing all the time," her older triplet Christine told The Washington Post. 
"She was suicidal, her thinking was really dark, and she had taken to nihilism. We called police the moment we got the email and they got there in time to save her that time [from suicide]."
Earlier this year, Kelly herself had written for a cycling site in which she explained the immense pressure to keep up her cycling and her studies. 
In the post, she wrote that she felt she needed "to time-travel to get everything done. And things still slip through the cracks.
Read more: World Suicide Prevention Day: Supporting children's mental health and well-being
"The entire cycling community is mourning this immense loss."

Three-time world champion and Olympic silver medallist Kelly Catlin has died aged 23.https://t.co/bwdmFLvGFG pic.twitter.com/Lp0V2a0T2Q

— BBC Sport (@BBCSport) March 11, 2019
"This is probably the point when you'll expect me to say something cliche like, 'Time management is everything.' Or perhaps you're expecting a nice, encouraging slogan like, 'Being a student only makes me a better athlete!' After all, I somehow make everything work, right? Sure. Yeah, that's somewhat accurate. But the truth is that most of the time, I don't make everything work. It's like juggling with knives, but I really am dropping a lot of them. It's just that most of them hit the floor and not me."
If you need to talk to someone, always remember that help is on hand. You can find a list of mental health resources in Ireland and the US here.