The Christina O sails in the Mediterranean this summer
You can now charter a yacht that was once owned by former First Lady Jackie Kennedy and her second husband, shipping magnate Aristotle Onassis.
Read More: Jackie Kennedy loved Ireland and her old Irish priest
Available for booking through Valef Yachts, the Christina O is can be chartered at a staggering price of €90,000 ($100,000) daily during the peak summer months. In the winter, the price shrinks down to €64,000 ($71,000) daily.
During the winter, the equal parts luxurious and historic yacht is docked in the Caribbean and is moved to the Mediterranean during the summer.
3
The yacht has played host to some of the most famous names in history: President John F. Kennedy,  Winston Churchill,  Richard Burton,  Grace Kelly,  Elizabeth Taylor, Greta Garbo, Frank Sinatra have all sailed aboard the Christina O.
Of the Christina O, Valef Yachts says: "When Aristotle Onassis bought the vessel in 1954, he converted her at an expense of over $4 million, into the largest, most modern and most exalted yacht of her era. CHRISTINA O became his floating mansion and headquarters for over two decades until his death in 1975."
Read More: Jackie's secret agent shares memories of JFK's assassination
"In 1978, Onassis's daughter Christina donated the yacht to the Greek Government and it eventually became disused. In 1998 the vessel was purchased by a family friend of Onassis and underwent an extensive refurbishment and re-powering, restoring her to her former glory and with the addition of all the latest technologies and equipment."
While there is room for 34 guests across 17 cabins, the yacht can accommodate up to 250 guests while docked and 157 guests while sailing.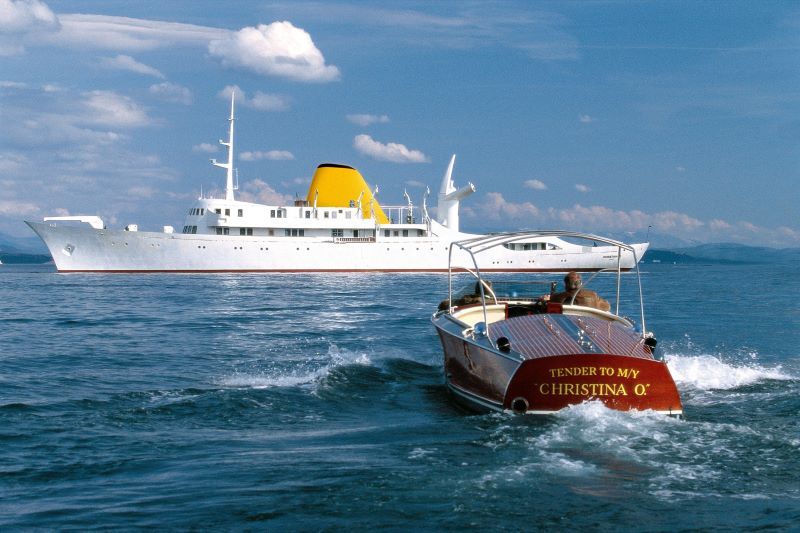 3
Read More: Jackie believed Lyndon B. Johnson had John F. Kennedy killed
The yacht boasts a dining room that can host 40 people, a swimming pool that converts to a dance floor, a large Jacuzzi, a fitness center, and an array of recreational equipment to use aboard or in the sea.
You can learn more about the Christina O yacht here: