An international hunt for a  people-smuggling gang is underway after 39 Chinese people were found dead in the back of a Northern Irish man's truck.
Officers from the Police Service of Northern Ireland have searched two homes in County Armagh overnight after 39 bodies were discovered in a truck's container in Essex, England. 
Maurice "Mo" Robinson (25), from Portadown, County Armagh, picked up the refrigerated truck from Purfleet, in Essex, just after 1.05am on Oct 25, 2019and drove it to Waterglade Industrial Park, in Eastern Avenue, close to Grays, where the 39 bodies were discovered. The police were alerted to the bodies by the ambulance service at 1.40am.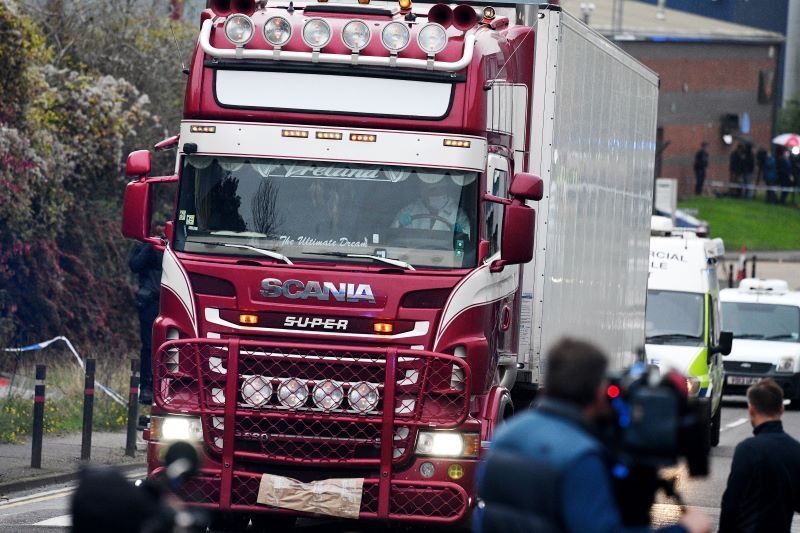 2
Robinson is being questioned by police in what is Britain's largest mass killing in history. The victims,  38 adults and one teenager, are believed to have frozen to death or suffocated.
The police are working on identifying the bodies. It is not clear who made the original discovery.
The police say the truck container, where the remains were found, originated in Zeebrugge, Belgium. However, police do not believe that the victims are from Belgium. It has been reported that the Belgian federal prosecutions office has opened an investigation. 
It is unknown how long the container had remained in Belgium or what its root was.
Police have confirmed that Robinson's lorry cab made the crossing from Ireland, via Holyhead, in Wales, on Saturday. 
The lorry itself is reportedly from Bulgaria. The Bulgarian Foreign Ministry said it is registered, in 2017, under the name of a company owned by a female Irish citizen. The lorry's windscreen has a number of decals - including a Celtic harp with "Ireland" written next to it and "the ultimate dream" at the bottom.
Maurice "Mo" Robinson
Robinson is being questioned by police and remains in custody.  
The truck driver appears to make regular trips to Denmark and Sweden, which means he would drive through Britain. Robinson's Facebook page is filled with photos of his Scania truck and photos of his girlfriend, a hairdresser, who is expecting twins. Robinson, who lives in a £300,000 home near Gilford in County Armagh, attended South Regional College in Portadown.
As yet, it is not known if he knew what was in his truck's container. According to the Daily Mail, he was arrested on suspicion of murder. 
Democratic Unionist Party councilor Paul Berry said Robinson's parents had not been informed by the police that he was under arrest.
"I've spoken to the family a couple of times," Berry said.
"At this stage, they haven't been informed of anything and the police don't have to in these circumstances. Obviously they are very distraught. They are just waiting for news. They just don't know.
"They contacted police themselves but a sergeant said he couldn't tell them anything. It does seem unfair. The family at least should know that he has been arrested."
Human trafficking
Three years ago the British government was warned that people smugglers were targeting Purfleet port, in Essex. Ministers were told by the National Crime Agency (NCA) that the port was being used by people smugglers because it was "less busy" than other ports.
This is the biggest loss of human life in this way in the United Kingdom since 2000 when 58 stowaways died in a lorry traveling by ferry, from Belgium to Britain. 
Five years ago on one migrant died and 35 others, including children, were rescued from a container at nearby Tilbury Docks. They were saved when workers heard screaming and banging from the 40ft container soon after a P&O ferry docked in the Essex port.