Irish Taoiseach Leo Varadkar awarded the fifth spot on Fortune magazine's 40 under 40 2017 list
Three Irishmen have made it into the top ten of the prestigious Fortune '40 under 40' 2017. Ireland's Taoiseach (Prime Minister), 38-year-old Leo Varadkar, was ranked as the fifth most influential person under 40 in the world.
Ahead of him was France's youthful President, Emmanuel Macron; Facebook founder and CEO, Mark Zuckerberg;  Cheng Wei and Jean Liu, who run the Chinese version of Uber; and Brian Chesky, Nathan Blecharczyk, and Joe Gebbia, who founded Airbnb.
Varadkar was elevated to Taoiseach by the Dáil (Ireland's parliament) earlier this summer as Ireland's first gay leader.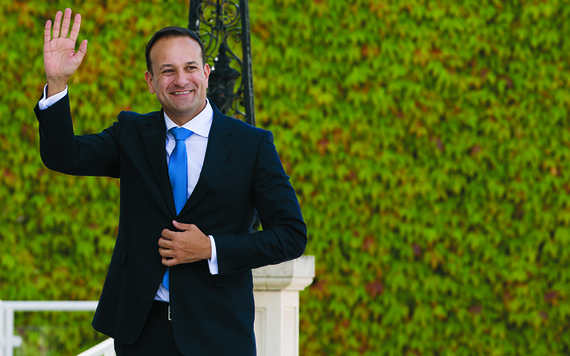 3
Speaking to IrishCentral immediately prior to Varadkar's election, a local councilor in his constituency, Teddy Leddy, said the Taoiseach's swift rise to the top had been predicted by many.
"People who have worked with Leo Varadkar from his younger days are not in any way surprised by his rapid climb toward the top of Irish politics," he said.
"His impressive intellect was obvious to Fine Gael members in Dublin West from his decision to contest the local elections as a 20-year-old back in 1999."
The other two on the list are Limerick boys, John and Patrick Collison, who place in joint sixth place.
3
They founded the company Stripe that helps customers make payments online and the brothers (who are still only in their twenties) have grown the organization's net worth to an estimated $9 billion.
John made news after the election of President Trump when he warned that restrictions on immigration would hurt the "fragile" success of Silicon Valley.
"Look at all the leading technology companies globally, and look at how overrepresented the United States is," he said at the time.
"That's not a normal state of affairs. That's because we have managed to create this engine where the best and the brightest from around the world are coming to Silicon Valley."
As Varadkar is only 38 and the Collison brothers are only 27 and 28, they will likely all be on the list again next year.
H/T: Fortune.com