Bringing you the best range of Irish gifts and products across North America IrishCentral and the North American Celtic Trade Association can help you find your local Irish store.
Did you know that the North American Celtic Trade Association helps to bring the best range of Irish products, gifts, and collections right to your doorsteps to the Irish and Celtic shops across USA and Canada?
Here on IrishCentral you can find your nearest Irish store for all your Irish shopping needs in North America. Click here to find your store.
Below is a rundown of some of the best Irish collections available at these shops:
Celtic Knot Works
Be your own kind of awesome
Be your own kind of awesome, with jewelry and gifts by Celtic Knot Works.
Bob Heiney, the lead artist at Celtic Knot Works, creates award-winning, high-quality original designs inspired by traditional Celtic styles. Find the piece that's perfect for you: pendants, pewter pins, matchbox covers, keychains, pendulums, money clips, and more. All items are proudly handcrafted in the USA.
Keith Jack
Celtic inspired jewellery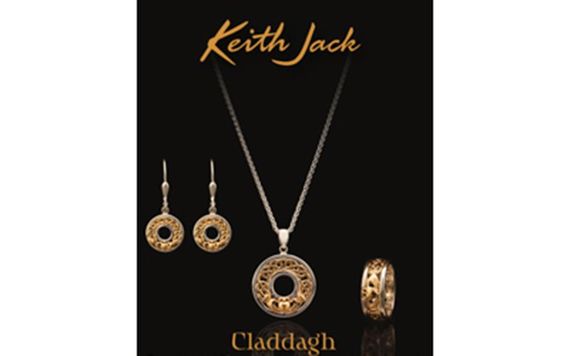 4
Keith Jack is an exciting line of Celtic inspired jewellery, designed by Keith to inspire Celtic pride and to express sentiments above and beyond the awe of their beauty.
Keith moved from Scotland to Vancouver, Canada, in 2007 and began selling his Celtic inspired silver jewellery out of one drawer of his (now) wife's Celtic retail store.
Today, assortments of Keith's 3,000 designs are being sold in over 300 retail outlets across Canada and the United States. He has won numerous awards for his beautiful jewellery and his keen business sense. Most recently, Keith was awarded "Best Jewelry Design" and "Best New Product" by the North American Celtic Trade Association.
Boru
Irish made fine Celtic jewelry
4
Boru's history can be traced back to the mid-1980s. Originally called Celtic & Heraldic, the company initially produced family coat of arms jewelry, showcasing the proud heritage of people all over the world.
This was the 'first' of many; first company to use family coat of arms on a piece of jewelry, the original designer of the infamous 'Mo Anam Cara' ring and also the first manufacturer to use the Claddagh symbol on a wedding band.
To view their many collections, to see their infamous Celtic Warrior Collection, Signature Collection, Bridal Collection, Claddagh Collection, and Damhsa Collection, go to www.borujewelry.com.
Mundo Images
Irish wisdom for every occasion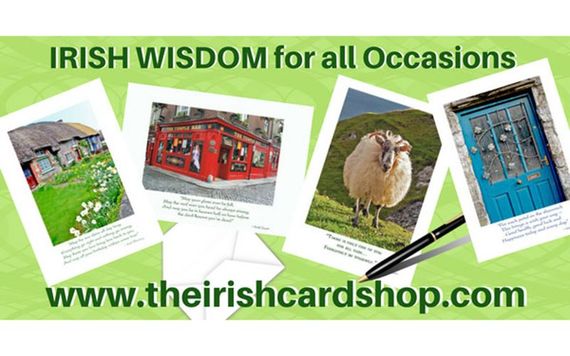 4
Ann Peterson, owner of Mundo Images and theirishcardshop.com was destined to create Irish greeting cards and gifts.
When she was a child, her family lived in Ireland, and at the age of seven, she began capturing bits of the colorful country with her first camera. Later, she also developed a love of languages and started a collection of quotations that were meaningful to her.
Winning several awards at juried art shows, Ann launched Mundo Images in 2007 at the National Stationery show with eight lines of greeting cards. The Irish Wisdom line was the star.
Her cards are now carried by fine, independent shops throughout the United States and Canada. Mundo Images has been an exhibitor at The Celtic Marketplace and The Ireland Show since 2008.
The James Trading Group
Brands: Guinness official merchandise, Walton's Irish Music, Croker, Simply Birch, Bailey & Brooke, Olann, and Jewelry by James
The James Trading Group has been serving the United States and Canada since 1989. They are a manufacturer and distributor of Irish clothing and goods, with exclusive rights to a wide variety of high-quality specialty goods.
These include Guinness official licensed merchandise, unique Irish jewelry, Croker authentic Irish clothing apparel, Waltons Irish music instruments and music publications, as well as their luxurious Simply Birch range of throws drawing on inspiration from their beautiful surroundings of Ireland. Bailey & Brooke is a market leader in high-end design and excellent quality, creating contemporary and classical collections within the giftware, jewellery and homeware sectors within the US market.
Become a stockist today by contacting their sales team on +1 (914) 345-1550 or sales@thejtg.com.
Lee Valley Ireland
It began with the grandfather shirt
Lee Valley Ireland has designed and made high-quality clothing here in the quaint village of Inchigeela, in West Cork, since 1986.
Local man Denis Hurley saw a market for a traditional Irish grandfather shirt and began drafting patterns and cutting fabric at home, before calling on the sewing skills of local women who operated from their own homes. From this cottage industry, the new family business went from strength to strength.
Following the success of the grandfather shirt now worn in all corners of the world, a range of traditional nightwear was developed and over the years Lee Valley Ireland has expanded its product range to include outerwear, shirting, and knitwear. In 2003 Lee Valley Ireland moved from the creamery building in the family home to purpose-built premises nearby and opened a retail space to showcase the growing range of products.
Over 30 years on from cutting his first grandfather shirt, Denis and his family remain committed to designing and making high-quality Irish country clothing and strive to offer you garments that you will treasure forever.
Visit leevalleyireland.com or email sales@leevalley.ie.
Solvar
Irish jewelry since 1941
Solvar is an award-winning jewellery manufacturer crafting Irish jewellery since 1941. They are a third-generation family run Irish business combining their passion for Ireland with their love of jewellery.
Each piece of Solvar jewellery is individually designed, drawing inspiration from Ireland's rich heritage and unique icons to provide a cherished memory of Ireland.  Their master designers craft each piece in the finest detail to the highest standard, using centuries-old craftsmanship skills.
All their sterling silver and gold is hallmarked by the Assay office in Dublin castle. The Dublin Assay Office was founded in 1637 to ensure only the purest quality gold and silver was used in the crafting of jewellery throughout all of Ireland.
Hanna Hats of Donegal
Irish timeless tweed head wear
Hanna Hats of Donegal Ltd are the third generation, family owned and run business. The Company are world famous makers of indigenous Irish tweed and linen hats and caps. The Hanna range also includes waistcoats, bags and other accessories made from tweed, linen, and wax.
One only must pick up a 'Hanna' hat or cap to see that the quality tailored look is what the company ethos is built on. They are proud of their tradition and heritage that they so deeply want to protect and so long as people have heads they will always wear a 'Hanna Hat'.
Mucros Weavers
Ireland from the loom
Mucros Weavers are easily inspired to create and produce beautiful products that reflect contemporary Irish styling, being surrounded by inspiration provided to them by the magnificent scenery and nature of Killarney National Park.
Their home is Muckross House, which is the focal point for visitors to Park. There the team of craftspeople, led by their Master Weaver John Cahill, design and produce ranges for both ladies and gents.
Incredibly soft scarves that are individually woven on 200-year-old Hattersly looms! Stylish and functional headwear from tweed cloth that can be worn alone or with their ponchos and capes.
Visit www.mucrosweavers.ie or email weaving@muckross-house.ie.
McHarp
Crosses with meaning
McHarp: Crosses with Meaning offers a variety of beautiful expressions of faith, heritage and family from around the globe, across cultures and throughout time. With a vision to create expressions honoring a heritage of faith, McHarp replicates the beauty and reverence of ancient and historic memorials from around the world as well as original designs.
From Celtic crosses and historic missions to Christmas ornaments and nativity scenes, manuscript letters, intricate tiles and Haiku's, each McHarp creation offers an enduring glimpse of the past while bestowing future memories to come.
With the passion for culture, history, and art, McHarp captures the different heritage's and faiths from all around the world in their creations.
Galánta
Handmade Irish jewellery
Galánta jewellery captivates the Celtic essence within everyone by offering handmade jewellery with an extra emphasis on elegance, exceptional design, and outstanding customer service.
Located in the shadows of Cratloe Woods, County Clare, Ireland – Galánta Jewellery offers a thoughtfully selected assortment of contemporary, Celtic and bespoke design jewellery.
Galánta means elegant in Irish. "Elegance is the only beauty that never fades".
Lee River Leather
Genuine leather goods made in Ireland since 1985
Lee River Leather Goods was founded in 1985, but as far back as 1969, they were crafting belts, bags, and moccasins in London's Kensington Market. These days they're based in their hometown of Cork, with their factory located in Donnybrook in a mill dating back to 1874, when it originally produces ropes and sails for the tall ships traversing the Atlantic Ocean.
NACTA Travel - North American Celtic Trade Association
NACTA Travel - Outstanding Service – Outstanding Value. Don't take chances with your travel plans to Ireland.
NACTA Travel is your Irish only travel agent. You'll have your own dedicated, experienced Irish travel consultant to help you plan and book the Irish vacation you always dreamed of. Their decades-long association with CIE Tours, the leader in Irish Guided Vacations for over 85 years, gives them insight and offerings the internet and most other travel agents just don't have.
Call (866)-622-2244 today and choose from over 50 all-inclusive itineraries. Variety of travel options with daily departures available, whether its five-star castles, famous Irish pub tours,
Irish Heritage, Ireland Go-As-You-Please, they have the perfect vacation in Ireland waiting for you!
You'll have so much fun you'll never stop telling the stories! Call (866)-622-2244 today or email them tracey@nacta.ie.
Here you can find the nearest Store to you for Irish & Celtic shopping in North America - www.irishcentral.com/store-locator.