Based in Dublin, Irish Jewelry Craft is a family-run online retailer with a passion for unique, handmade jewelry steeped in culture and tradition.
Irish Jewelry Craft's pieces are handcrafted in Ireland and feature traditional designs, making them an ideal gift for a special occasion or as a symbol of your heritage. 
Only the best materials are used in their pieces, such as hallmarked gold, platinum, and sterling silver, to create a breathtaking range of Irish rings, Claddagh necklaces, Celtic earrings, and bracelets. Their timeless Irish jewelry is adorned with glistening gemstones, including diamonds, emeralds, sapphires, and Connemara Marble.
Plus, all of Irish Jewelry Craft's collections are hallmarked at the Assay Office in Dublin Castle, which guarantees the quality and authenticity of each piece of jewelry. 
Here are our top 5 favorite picks from Irish Jewelry Craft:
Gold Diamond Set Claddagh Pendant
This charming gold pendant showcases the iconic Claddagh design - two hands delicately clasping a central heart which is topped with a crown. A semi-circle of genuine diamonds sweeps up and around the Claddagh, adding a shimmering splash of sparkle. This glamorous necklace is presented on a 14k gold 18-inch chain and is a perfect blend of Irish tradition and modern style.
Trinity Knot Pearl Earrings with Crystals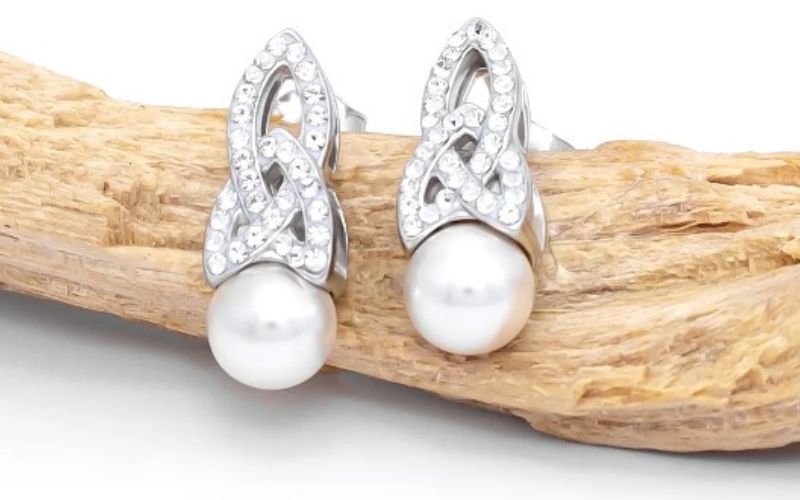 6
Delicately crafted in Ireland from sterling silver and showcasing an eye-catching genuine pearl, these earrings exude effortless beauty. The iconic Celtic trinity knot motif is embellished with shimmering crystals and signified endless love and eternal life. This romantic symbolism makes these gorgeous earrings a truly perfect accessory for any beautiful bride on her wedding day. Pearls, natural gemstones from the ocean, are also the birthstone for those born in June, making the earrings an ideal birthday gift. 
Emerald and Diamond Gold Claddagh Ring
The Claddagh design has never been so beautiful! This stunning ring brings together the eternal promise of diamond, the opulence of emerald, and the sheer beauty of 14-karat yellow gold with the timeless meaning of the ancient Claddagh symbol of love, loyalty, and friendship.
Connemara Marble Sterling Silver Claddagh Pendant
This breathtaking Connemara Marble Sterling Silver Claddagh Pendant is expertly crafted with sterling silver and features the famous Claddagh emblem. Genuine Connemara Marble is a beautiful and rare stone found exclusively in the West of Ireland and the many shades and tones of green make this marble unique, with no two pieces the same. The contrast between the shining handcrafted silver and the rich green hues of Connemara Marble is absolutely beautiful. 
Gold Ladies Claddagh Celtic Wedding Ring
Celebrate everlasting love and commitment with this exquisite Celtic wedding ring. The band of the ring features alternating Claddagh symbols and interlacing Celtic knotwork.  Handcrafted from 14K yellow gold with exceptional attention to detail, the Claddagh motif is a renowned Irish symbol of true love.  The central heart signifies love, the crown represents loyalty, and the two hands are a sign of friendship.
Shop Irish Jewelry Craft's full range here and enjoy FREE SHIPPING on orders over $160. You can book a virtual appointment to speak to one of their expert jewelers here and you can also follow them on Instagram and Pinterest.