Cannonball Ireland, the action-packed supercar spectacle, will take place September 15-17 with proceeds going to the Irish charity The Jack and Jill Children's Foundation.
The largest organized road trip in Europe, Cannonball Ireland takes a different route each year, showcasing the very best that Ireland has to offer.
Millions of fans have witnessed the "crazy" Cannonball convoy of cars pass through their town, city, or bend-in-the-road with nearly 200 supercars, wacky fun cars, and monster wheels every year.
Attendees are offered the unique opportunity to witness the world's most prestigious and sought-after supercars up close, from the awe-inspiring power of Ferrari, Lamborghini, and McLaren to the grace and elegance of Porsche, Aston Martin, and Maserati.
Now in its eleventh year, Cannonball Ireland attracts over 200,000 spectators with free family festivals all over the country every year.
Cannonball is renowned for its unique festival atmosphere: Brazilian Dancers, giant screens, music, and fanfare bring all the glamour of carnival, and live DJs, bands, and festivals in host towns get the party started.
The Cannonballers and celebrities in colorful costumes add to the melee. From Spiderman to Star Wars, Cat Woman to Wonder Woman, cheerleaders to Charlie's Angels, Batman, the Joker, and more, it is a totally unique free family day out.
For Cannonball Ireland 2023, organizers are also calling on spectators to dress up in fancy dress with prizes for best dressed.
Cannonball Ireland has so far raised €1,538,602 for Irish charities. This year's official charity is The Jack and Jill Children's Foundation, an Irish children's charity that funds and delivers in-home nursing care, respite support and end-of-life care for children from birth to six years of age who have highly complex and life-limiting medical conditions. 
The official route for Cannonball Ireland 2023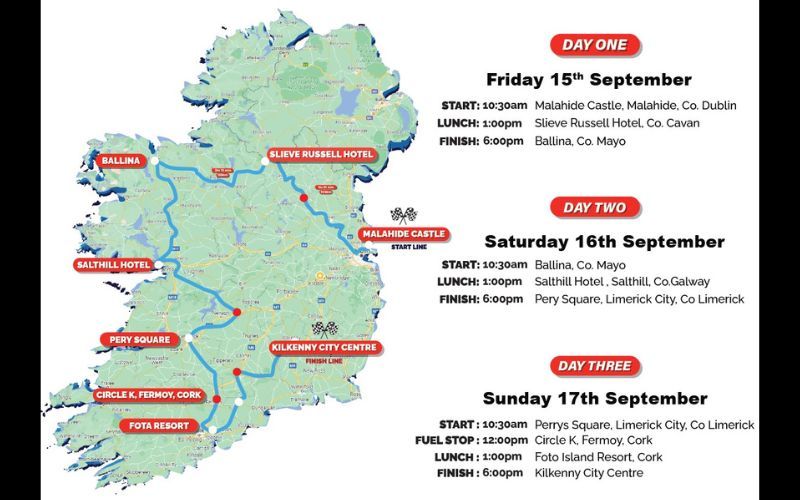 2
Thursday, September 14: The Cannonball crew will roll into Malahide Castle to get set for another adrenalin-fueled supercar spectacle. The supercars are due to start arriving from 6 pm with an opportunity for spectators to be captivated by their enviable fusion of engineering excellence and breathtaking design.
Friday, September 15: At 10 am, the gleaming convoy will depart Malahide Castle and will blaze a trail to Cavan for a lunch stop at the Slieve Russell Hotel and Country Club in Cavan. The first finish line and overnight stay will be in Ballina and the cars are due to arrive to the finish line on the Quay at 6 pm to help celebrate Ballina's 300th birthday.
Saturday, September 16: The convoy will leave the Quay in Ballina at 10:30 am and travel to Salthill Hotel Co Galway for lunch at 1 pm and then onwards to Pery Square Limerick City for the second finish line and overnight stay in association with Limerick City and County.
Sunday, September 17: The supercars will leave Limerick City at 10:30 am, then fuel up at Circle K Fermoyand then onwards to Cork for lunch at Foto Island Resort before a big dramatic final finish line in Kilkenny City at 6 pm.
Cannonball was founded by Kildare businessman Alan Bannon and the benefit to the host towns for this event is estimated at €2,567,000 per year.
The event is fuelled by milesPLUS from Circle K as the main headline Sponsor for 2023 and all official fuel stops on the route where spectators can see the cars will be announced in the coming days. The Tour Sponsor this year is Apache Pizza and Cannonball official partners include Karl Goodwin Motors, AB Signs, HONE Energy and Majestic Ireland Road Trips.
For more information, visit cannonball.ie.