Just over 40 miles outside Dublin this traditional Irish cottage on 16.5 acres of picturesque country is on the market for $409k (€380k).
Located in Glenmacness, Laragh,  in County Wicklow this picture-perfect cottage with two bedrooms and various outhouses would make a wonderful retreat from the hustle and bustle of modern life while being just minutes about from some of the county's most lively villages.
This former farmhouse is located on the historic Old Miltary Road, close to Laragh village and Glendalough, in the stunning and tranquil location in the Glenmacnass Valley on the banks of the Glenmacnass River, According to the real estate agents, J.P. & M. Doyle Terenure, the property boasts of "outstanding views of the surrounding mountains, river and a waterfall closeby. This location is in the foothills of the Wicklow Mountains in an area renowned for hill walking and outdoor pursuits."
The property itself is made up of a living room, kitchen, two bedrooms and bathroom. Recently modernized the cottage is fitted with an alarm and CCTV. The property is divided by the public road with the house and surrounding area running down to the river extending to c. 3.5 acres and the land across the road extending to c. 13 acres on an overall site area of c.16.5 Acres.
Irish stone cottages have a long and storied history that dates back centuries. Originally constructed as humble abodes for farmers and laborers, these cottages were built using locally sourced materials such as limestone or granite. The design and construction techniques have remained relatively unchanged over the years, reflecting the enduring traditions of Irish craftsmanship.
Inside, these cottages featured a simple layout, typically consisting of a central hearth, a single main room, and a loft space for sleeping. The hearth served as the focal point, providing both warmth and a place for cooking. Although many modern stone cottages have been renovated to include modern amenities, efforts are made to preserve the original character and integrity of these historical dwellings.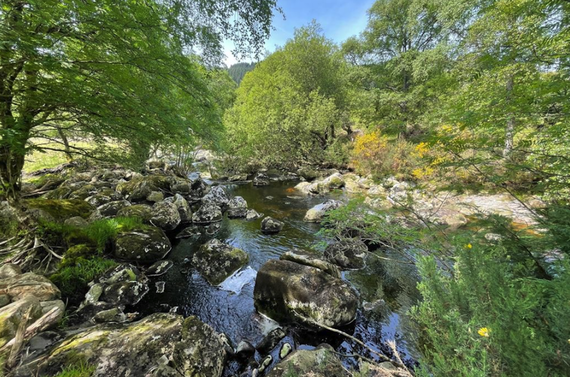 2
In recent years, there has been a growing appreciation for the cultural significance of Irish stone cottages, leading to efforts to preserve and restore these architectural treasures. Organizations and individuals have been working tirelessly to protect these cottages from decay and demolition, recognizing their value as a link to Ireland's past.
As well as being just 43 miles (70km) away from Dublin's city center, the property is located just 2.7 miles (4.4km) from the village of Laragh. This hidden gem beckons nature lovers, adventure seekers, and history enthusiasts alike.  From scenic hikes to ancient ruins and warm hospitality, Laragh has something to captivate every visitor.
Check out the full property listing here.