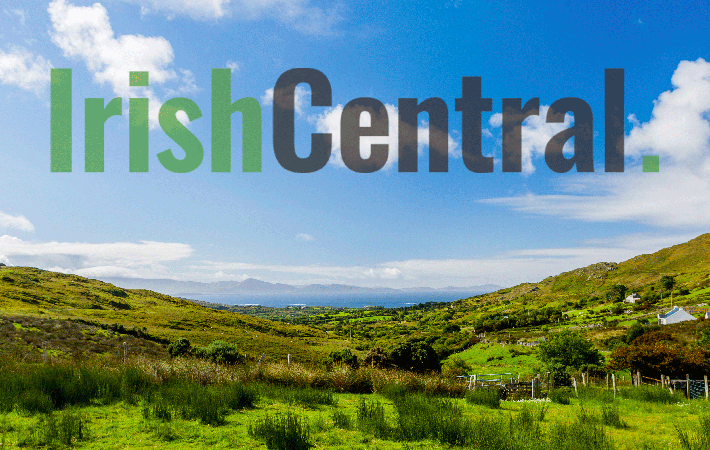 YOU couldn't really fit many more people into the Shamrock House on the Thursday night of the Catskills Irish Arts Week in East Durham. Numbers won't really tell the story when traditional Irish music and the friendship and camaraderie that go with it combined to transform the historic old roadhouse into a living testament to the hold the music has over us at times.
We have gotten used to the Thursday evening ceili orchestrated by Billy McComiskey operating on another level each year, but this year would be hard to top no matter how long that custom continues.
For this year, McComiskey, the 56-year-old accordion player born and raised in Brooklyn, New York was the focus of attention on the occasion of the CD release for his first solo recording in 27 years, Outside the Box, and the assembled family and friends made it a night to remember.
McComiskey's family and musical roots are so intertwined with the Catskills that there was no other place more fitting than the Thursday night soiree at the Shamrock House for this first launch. In fact, at the ceili in Leeds on Wednesday the Catskills connection was accentuated when a gathering honored Mae Caplis McComiskey and her brother Andy and remembered Matt Caplis, who indoctrinated the teenage McComiskey to the world of Irish music in the mountains.
The Shamrock dance hall was packed, all tables full and 20 sets up on the floor and the overflow similarly swelled round the corner into the bar area. One might be tempted to say that they were all family and close friends of the legendary box player, one of the finest Irish musicians that Irish America has ever produced, but that might be exaggerating it a bit, as some only know him by name and reputation.
Thanks to McComiskey's efforts over the years this particular ceili had taken on a real crossroads atmosphere, with many of his fellow musicians from his adopted and now long standing home base in Baltimore mixing with New York area musicians, along with some special guests which this year included Catherine McEvoy and Angela Crehan Crotty from Ireland.
The music played for the ceili was as magical as always, spurred on by the discerning crowd who knew why they were in the hall in the first place.
The launch also benefited from three people who contributed valuable notes to the informative 16-page booklet accompanying the new recording to laud the popular McComiskey personally, each having known him for decades.
Dr. Mick Moloney discovered the young McComiskey shortly after Billy headed south to Washington, D.C. where he and his Irish Tradition bandmates, Brendan Mulvhill and Andy O'Brien helped kickstart the trad scene there back in the late seventies.
Moloney has worked with McComiskey ever since in Green Fields of America shows and hundreds of other concert and festival settings, and as the foremost expert on Irish American music, has the measure of Billy's formidable contributions to it.
Journalist Earle Hitchner has covered McComiskey since the halcyon days of the Washington, D.C. Irish Music Festival and written extensively about him in the Irish Echo and Wall Street Journal, where he profiled his emergence into the studio once again after a long hiatus raising a family and on other projects.
Long-time friend and Baltimore neighbor Myron Bretholz has worked alongside McComiskey in making the harbor town one of the foremost American bastions for Irish traditional music and also has shared his Catskills adventures as well over the past 14 years.
Of course, nothing would be worth this much ink if the album didn't deliver the goods after the 27-year wait from his first excellent solo effort Making the Rounds recorded in vinyl for Green Linnet in 1981 (and re-released as a CD in 1993 and now available again under the Compass-owned Green Linnet label). His recordings with the Irish Tradition and Trian (with Liz Carroll and Daithi Sproule) also solidified his building reputation.
The new recording documents the life-long journey he had been on in Irish music as manifested in many of his own compositions that appear on the CD, paying homage to family and friends who influenced him along the way.
To compose convincingly as he does in the Irish traditional music idiom, one must understand the rhythm and tempo that translates into a melody or tune that is appropriate for dancing. This has always been his forte when making his own music or playing others.
Not unlike Turlough O'Carolan whose music he interprets so brilliantly on the box (Planxty Thomas Burke/Lady Gethin on track 11), his compositions compliment patrons or friends who have helped or inspired him on route.
And like Andy McGann, one of his heroes, McComiskey studied dance and played for many dancers like Donny Golden, so he has the tactile touch that infuses his playing.
His family provided the opportunity and appreciation for playing, but his principal mentor and friend was Sean McGlynn from Co. Galway, from whom he learned so much more than music.
McGlynn's generosity of spirit, love of the music and encouragement of all musicians who took it up whether they were from the old country or America has become McComiskey's legacy which he lives out daily whether it is in his native New York, Maryland or Ireland where he is duly recognized for his prowess.
Sean's widow Maura, presented her late husband's grey Paoli Soprani B/C accordion to McComiskey along with two unnamed jigs Sean composed, whereupon McComiskey named them after Sean and Maura, pairing them with a Liz Carroll tune "Connie Scanlon." Liz joins him on all three on track two.
Since McComiskey has always been a keen observer and absorber of traditional music and styles. He easily flew under the sway of great box players like Paddy O'Brien from Nenagh in Co. Tipperary (also Paddy O'Brien from Offaly), Bobby Gardiner from Clare and the Galway greats like Joe Burke, Martin Mulhaire, Joe Cooley, Kevin Keegan and Joe Madden.
Much of that influence can be felt throughout the new recording on the reels, jigs, hornpipes and waltzes where he exhibits a special flair for capturing the emotion or romance of that dance form (track four contains two waltzes he wrote, "The Diamond" and "Sleepless Nights").
That second waltz is dedicated to his wife Annie Caskey McComiskey, who paced the floor with a sleepless young Mikey, the third of their three children who is also taking up the accordion like his older brother Sean who appears on the CD.
Too bad he hadn't composed his lovely lullaby "Grainne's Grace" (track five) until a few years later to welcome the first child of Fiona and Jerry Buckley, who used to run a set dancing series in South Jersey where McComiskey often performed.
Appearing as special guests on the album are Mathew Bell and Myron Bretholz on bodhran, Liz Carroll and Athena Tergis on fiddles, Joanie Madden on flute and whistle, Brendan Dolan on piano, Mick Moloney on banjo and John Doyle on guitar, bouzouki, mandola and Sean McComiskey on accordion.
The album absolutely captures him at the height of his gifts with a balanced perspective on where the music came to him and where it is heading in the hands of its current shepherds. McComiskey was jointly encouraged to record this album by producer John Doyle, who brought him to Compass Records (www.compassrecords.com) and also coaxed financial support from the sympathetic Shamrock Irish Traditional Music Society in Connecticut to go along with the Maryland State Arts Council.
The Baltimore CD launch will be on Sunday, September 7 at 7 p.m. at the Creative Alliance at the Patterson (3134 Eastern Avenue). Special guests include Liz Carroll, John Doyle, Mick Moloney, Brendan Dolan, Mathew Bell, Myron Bretholz and Sean McComiskey. It should be a mighty night that could even induce a certain Maryland State governor, Martin O'Malley, to attend.
Further details available at www.creativealliance.org or phone 410-276-1651.
With friends like these, it's a pleasure to share the company of Billy McComiskey both outside and inside the box.