New development of Foynes Flying Boat & Maritime Museum, in Limerick, will including a wing to house a collection of The Quiet Man star's personal memorabilia donated by her family.
The developments planned to take place at the Foynes Flying Boat & Maritime Museum to evolve the Limerick attraction towards a "transport heritage precinct" will include a new museum wing to house a collection of Maureen O'Hara's Hollywood and personal memorabilia, interweaving the glamour and iconic status of early aviation with the fame and romance of Ireland's connection with the golden age of Hollywood.
The museum, located just over 20 miles outside Limerick, was opened by Maureen O'Hara 30 years ago this month. O'Hara had been heavily involved with the museum's inception along with her husband, Charles F. Blair Jr., a US Navy aviator and chief pilot of American Export Airlines and Pan American Airlines.
4
The Foynes museum is dedicated to preserving and telling the stories of the pioneering days of aviation and passenger travel across the North Atlantic, the rich maritime history of the River Shannon and the port of Foynes, and the local creation of Irish coffee.
O'Hara's personal possessions and collections were donated to the museum by the late actor's grandson Conor Beau Fitzsimmons following her death. They first went on display at the museum in 2018 when plans were announced for the new Maureen O'Hara Museum. At the time Founder and Manager of Foynes, Margaret O'Shaughnessy, estimated that the new museum would open in August 2020.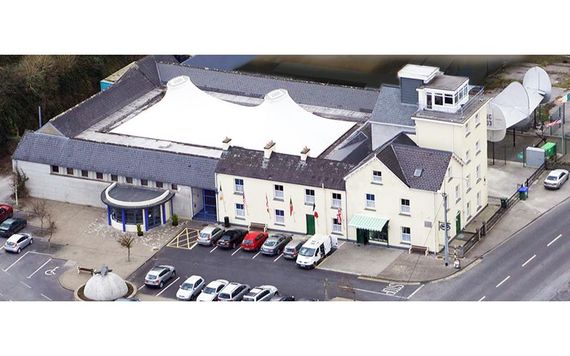 4
The new addition of a Maureen O'Hara Museum will showcase a vast array of memorabilia from throughout her life. Exhibits include items from her Hollywood film career - her Oscar and movie artifacts alongside a collection of John Wayne collectibles, showings of O'Hara's most famous feature films - personal possessions and images documenting her life, films and records documenting her long-standing relationship with Foynes.
Read more: The Maureen O'Hara sex scandal that shocked Hollywood
4
The new expansion will also include a dedicated section for Charles F Blair, O'Hara's husband. This will house Blair's personal memorabilia as well as the Harmon Trophy, presented by President Harry S. Truman to Blair for extraordinary feats of aviation, his Distinguished Flying Cross Medal and other awards. This section will stress the importance of that relationship during the Flying Boat era.
This project proposal will serve a whole new and diverse audience to Foynes and importantly provide a winter function creating extra revenue for the museum in the shoulder season.
Other planned improvements at Foynes include the expansion of first flights section, development, and enhancement of the radio and meteorological room exhibition, an extended cinema, enhancement of the hologram exhibit portraying the creation of the first Irish coffee, a new viewing gallery. There will also be the creation of a multi-purpose space with the capacity to seat up to 300 people as well as archive and library with computer access to files for visitors, and a new board and educational rooms.
Will you be visiting the new improved Foynes museum, to include a Maureen O'Hara wing? Have you been before? Let us know your thoughts in the comments section below.
Read more: "The Quiet Man" railway station's restorations gets go ahead