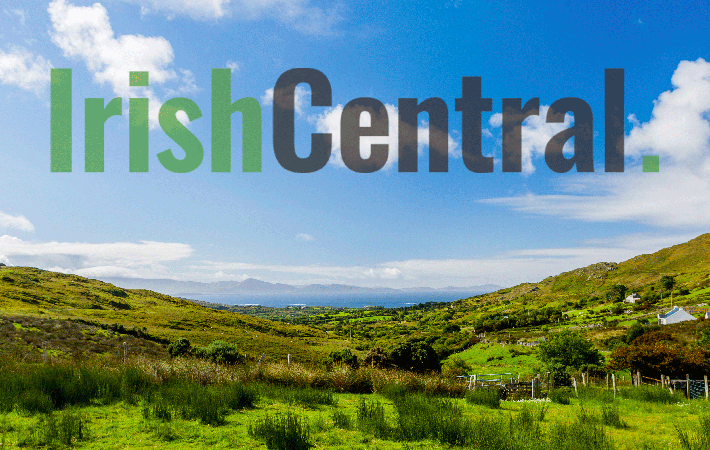 Irish actor Ciaran Hinds is having a banner year, appearing in five acclaimed new films and sharing center stage on Broadway in the hit play, The Seafarer. In his latest flick, Miss Pettigrew Lives for a Day, Hinds plays a reformed playboy with love on his mind. CAHIR O'DOHERTY talks to the film's co-stars Amy Adams and Lee Pace about bringing the film to life.
LAST year was a breakout one for Irish actor Ciaran Hinds, 55, the year in which the Belfast-born character actor finally - and deservedly - joined Hollywood's big leagues. Featured in a string of critically acclaimed new films, Hinds has proven himself to be remarkably versatile talent, making him one of the world's most respected actors.
Seen recently in the 2008 Best Picture contender There Will Be Blood, Hinds has also recently starred in In Bruges and Margot at the Wedding, and he's currently appearing on Broadway in Irish playwright Conor McPherson's hit play The Seafarer.
On March 7, Hinds will next be seen in the irresistible romantic comedy Miss Pettigrew Lives for a Day, co-starring Oscar winner Frances McDormand and the new Hollywood It girl Amy Adams. Can you find a new life and discover your true love all in one day, Hinds' new film asks? Well yes, you can - in the movies, anyway.
Miss Pettigrew Lives for a Day is a big budget, fast paced screwball comedy set in London in 1939 where Guinevere Pettigrew (McDormand) plays a dowdy governess who gets fired from one job and the next day goes to work for Delysia Lafosse, a famous young actress.
Prim Miss Pettigrew is a vicar's daughter who suddenly finds herself surrounded by racy types, and at first she's appalled by the loose living young actress she finds herself working for, especially when it involves covering up Delysia's multiple affairs.
But although Miss Pettigrew's a bit of a stick in the mud, she has lots of worthwhile common sense and soon she becomes Delysia's social secretary, sorting out Delysia's life and - in the end - her own too. It's the kind of wisecracking comedy caper that Hollywood used to make in its heyday, and the surprise is how well this Cinderella for adults story works in 2008.
Playing alongside Hinds and McDormand is the ravishing redhead and Oscar nominee Adams, who's about to appear in an astonishing line-up of films herself - first, in Miss and then in the film version of Irish American playwright John Patrick Shanley's Doubt, starring Meryl Streep and Philip Seymour Hoffman.
Speaking at the Waldorf-Astoria on Sunday, where she was in town to promote the film, Adams told the Irish Voice, "I have to tell you playing a character like Delysia was amazing. You go home at the end of the day with much more energy and spirit. I really got an awful lot from playing that character. She definitely gave me a different perspective on life."
Adams admits that the film is women-driven, told from a woman's perspective and likely to appeal to women moviegoers first. "The film is about finding out what - and who - is right for you, what is truly best for you and about how to be true to yourself, even if it means you have to step outside your comfort zone."
Originally written by Winifred Watson in 1938, Miss Pettigrew Lives for a Day was a story a bit ahead of its time, dealing with themes like flouting convention, class tension and extramarital sex. But the real power of the story is its suggestion that with a bit of luck anything might be possible. Everyone, no matter how poor, or prim, or neglected can have a second chance to blossom and make their way.
Says Adams, "Miss Pettigrew embodies the hopes of anyone whose life hasn't quite worked out as they might have hoped it would. Given a chance, she comes to life, she goes from being the least important person in the room to the most important, she's a magnet for people who value her insight."
As she helps Delysia navigate life and love, Miss Pettigrew is surprised to find herself drawn to the dashing Joe (Hinds) a successful designer engaged to the haughty fashion queen Edythe (Shirley Henderson). Edythe is the one person who senses that Miss Pettigrew is completely out of her depth among this tony crowd, and she schemes to undermine her, but to no avail. Over the 24 hours the entire story unfolds in, Miss Pettigrew and Delysia empower each other to find and embrace their romantic destinies.
Hinds is a revelation in the role, playing a slightly washed out playboy who's grown weary of the daily round of parties. Like his fiance Edythe, he suspects that Miss Pettigrew is out of her depth, but he responds with generosity and kindness rather than contempt.
He's touched by her awkwardness and surprised to find himself increasingly drawn to her. It's a terrific romantic lead for Hinds, and he's pitch perfect in the handful of scenes he plays with McDormand.
The unexpected love that blooms between the two mature leads is echoed in the passion between the film's two younger stars. Lee Pace, who plays Michael, Delysia's handsome suitor, told the Irish Voice, "There aren't enough films like this being made today, about people falling in love and making choices about what they truly value in life."
Pace is cast in a role that in earlier decades would have been filled by an actor-like Gary Cooper or Cary Grant, an old fashioned leading man who can covey vulnerability and tenderness in addition to masculinity. The chemistry between him and Adams is palpable from their first scene together and it's really the heart of the film.
Although Miss Pettigrew Lives for a Day is another success in a remarkable film year for Hinds, he's unlikely to let it go to his head. Audiences may leave the theater smiling but there's one critic Hinds finds hard to please.
Recently he recalled his first taste of acting at St. Malachy's College in Belfast when he was 12 years old, "They always got the younger boys to play women and my mother still believes that's the best work I've ever done."
These days Hinds is winning raves as the star of The Seafarer on Broadway, but his mother Moya, 86, who lives in the Glens of Antrim, still talks about his star turn as Lady Macbeth. Says Hinds, "I was 12 when I played Lady Macbeth. It's hard to keep pushing on into your fifties thinking, 'Wow, I'll never beat that!'"