Tommy Tiernan and Pauline McLynn among all-star cast to appear in BBC bio-pic to start filming in Northern Ireland
 An all-star cast is set to appear in a new BBC movie, "Dave Allen At Peace," including "Game of Thrones" and "The Wire" star Aidan Gillen as the Irish comedy hero himself.
Gillen's "GOT" co-star Conleth Hill will star as Allen's tragic brother, John, while Irish stand-up Tommy Tiernan will play Allen's father and "Line of Duty" star Joanne Crawford will play his mother. Simon Day, Pauline McLynn, Robert Bathurst, Julian Rhind-Tutt and "Star Wars" actor Ian McElhinny are also among the cast in the one-hour BBC Two movie, according to Chortle.
Filming is set to kick off in Northern Ireland this month. The short bio-pic will follow Allen's life, by having the comic reflect on his formative years from his usual position on a barstool. It will trace his life from his childhood, to performing at a Redcoat at Butlins (holiday camps), to how his life was shaped by the loss of his father and brother. It'll also look at how he survived the Roman Catholic Church's wrath, Irish Republican Army death threats and his ban from Irish and Australian television only to have his TV career end when he said the "F word."
That's a heck of a lot to fit into an hour!
Read more: Our favorite jokes from Ireland's favorite comedian – Dave Allen
BBC comedy chief Shane Allen told Chortle, "Dave Allen defined and pushed at the boundaries of where television comedy were set and paved the way for modern stand-up to tackle controversial themes and taboos.
"This film explores what shaped his trailblazing career and celebrates this hugely popular comedian who ridiculed authority figures with a twinkle in his eye, a glass of whiskey and the most talked about finger in comedy history."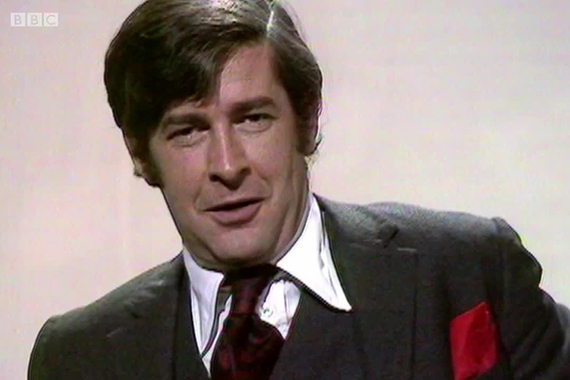 2
The beloved Dave Allen, father of famed singer Lilly Allen, was born David Tynan O'Mahony in Dublin in 1936. He was profoundly affected by the death of his father when he was 12-years-old. And again by his brother John's alcoholism and passing later in life.
Allen moved to London at age 19 and began performing stand-up after his spell at Butlins. He changed his name to Allen purely to place him alphabetically at the top of a talent agent's list. Smart!
His first television appearance was on the BBC talent show "New Faces" in 1959, but Allen first established himself as a comedian and talk show host in Australia.
He returned to the United Kingdom in 1964 and signed with the BBC in 1968, fronting his own show until 1990. His controversial sketches included him portraying the Pope doing a striptease on the steps of St Peter's Basilica and priests speaking like Daleks (alien mutant characters from "Dr Who") through electronic confessionals.
The comedian lost the top of his left forefinger, above the middle knuckle, after catching it in a machine cog but enjoyed inventing stories throughout his career to explain the loss.
He died peacefully in his sleep, in London, in 2005.
Aidan Gillen who will play Allen in the short bio-pic is best known for his role as Lord Baelish in "Game of Thrones." He made his name in the Channel 4 drama "Queer as Folk" and gained international recognition for his role as Councilman Carcetti in another smash-hit HBO series, "The Wire."
This is not the first time the BCC has broached the subject of Dave Allen's life. In 2013 the BBC made a documentary about Allen called "God's Own Comedian" and in 1998 he was the subject of a six-part retrospective called "The Unique Dave Allen."
The upcoming bio-pic is being written by Stephen Russell, directed by Andy De Emmony and produced by Brett Wilson.
Here are some of Dave Allen's most popular jokes: