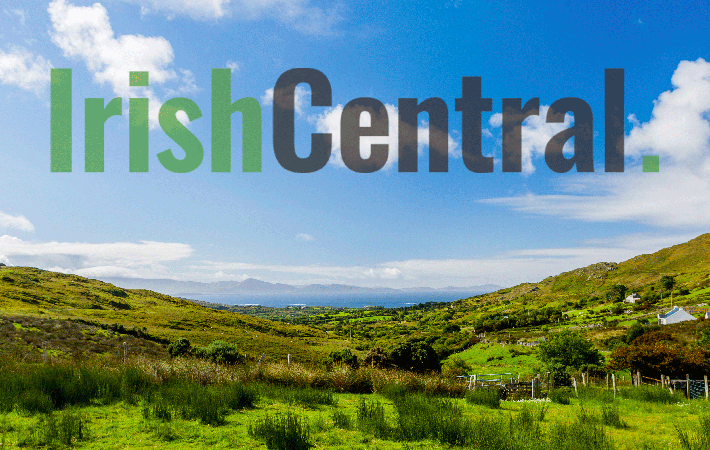 SHE'S worked with A-list Irish actors like Colin Farrell, Liam Neeson, Brendan Gleeson and Cillian Murphy, and legendary British veterans like Emma Thompson and Dame Maggie Smith, but in Brideshead Revisited, which opens this week, Co. Limerick native Eimer Ni Mhaoldomhnaigh is tackling the biggest challenge of her career.
Considered surefire Oscar bait, Brideshead Revisited is the epic tale of a doomed aristocratic English Catholic family between the World Wars that opens this Friday. For Irish costume designer Ni Mhaoldomhnaigh it's the chance of a lifetime to recreate the high fashions of the interwar era, and to shape the entire film's look and feel.
Clothes are the other characters in this lavish period drama starring double Oscar winner Thompson, and Ni Mhaoldomhnaigh designs are already being hailed as a triumph.
Speaking to the Irish Voice by phone from the set of Neil Jordan's new film Ondine in West Cork, where's she's currently designing the costumes for the film's Irish leads Colin Farrell and Stephen Rea, Ni Mhaoldomhnaigh, 41, reflects on her career to date.
"I went to Art College in Limerick where I studied fashion," she says. "Then I lived in Spain for a few years and I got friendly with filmmakers there. That got me interested in film work. When I came home in the early nineties things were really getting off the ground in terms of films here. I went from job to job, really."
Ni Mhaoldomhnaigh's work on the Jim Sheridan film In America led to her first big break. From there she moved on to Jordan's Breakfast on Pluto and from there to The Wind That Shakes the Barley, the 2006 Cannes Palm d'Or winner directed by Ken Loach.
To date she has worked on a wide range of film and television projects including the BAFTA award winning film Omagh (about the Real IRA's infamous attack). She also worked on the TV film version of best selling Irish novelist Marian Keyes' Watermelon, for which she was nominated for an Irish Film and Television Award for Best Costume Design. (She received similar nods for her work on Breakfast On Pluto and Becoming Jane.)
Says Ni Mhaoldomhnaigh, "Working with Irish actors is brilliant because they really love working at home. I'm working with Colin Farrell and Stephen Rea on Neil Jordan's new film about a man who thinks he's fished up a mermaid. It's a contemporary design with a little bit of magic to it.
"And Colin is just a real gentleman to work with. I've found that with Liam Neeson, Brendan Gleeson and all the others. They're professional, they know what it's all about, they know the costume is important and they give you time to get it right."
It's the second time in 27 years that novelist Evelyn Waugh's classic tale has been filmed. In 1981 the television miniseries Brideshead Revisited (starring Jeremy Irons and Anthony Andrews) represented the high water mark of the golden age of British broadcasting, attracting record numbers of viewers.
But now in 2008 the film's English director Julian Jarrold feels the time is right for a new telling of the classic tale, this time on the silver screen.
Brideshead Revisited begins as the memoirs of Captain Charles Ryder, the film's hero, who finds himself stationed at Brideshead Castle during World War II, where he remembers his earlier involvement with the Brideshead family, and in particular with brother and sister Sebastian and Julia.
Brideshead Revisited, among other things, is the ultimate cautionary tale about the results of parental meddling and neglect. Charles, Julia and Sebastian's parents, we discover, have royally screwed them up, and then their religion wears them down.
But don't get the impression that you're in for a boring morality lesson. This is one of the most fascinating portraits of a family and an era that you will ever see.
Ni Mhaoldomhnaigh developed a strong working relationship with the film's director Julian Jarrold on Becoming Jane (starring James McAvoy and Anne Hathaway), and although she was very familiar with the celebrated television series, the challenge to approach Brideshead again with a fresh eye was one she simply couldn't pass up.
"It was very important for me to create something individual and new, so I started from scratch, researching the period and the fabrics," Ni Mhaoldomhnaigh says.
Working with the director and actors, Ni Mhaoldomhnaigh looked to reflect the characters and their development throughout the film through the style and design of their wardrobes.
"People may not think of it immediately but costume is central to a film," she comments. "It's really important to me that the actors are comfortable in their costumes and that they are helping to develop their characters in some way."
On dressing Ben Wishaw, the talented young British actor who plays the doomed Sebastian Flyte, Ni Mhaoldomhnaigh notes, "Ben is very relaxed, which worked well for Sebastian because you want him to have a total ease with what he's wearing. You want him to look gorgeous and individual and fascinating, so that everyone turns to look at him."
(Wishaw told Ni Mhaoldomhnaigh that he was always amazed how a piece of clothing could change the way he felt about a character. It does, he said, an awful lot for him as an actor).
Says Ni Mhaoldomhnaigh, "For Ben taking on the mantle of Sebastian Flyte after Anthony Andrews iconic portrait must have been pretty daunting for him. So I think it's really important for the costume designer to be aware of that.
"I always meet with the actors and get some feedback from them because they'll have spent time thinking about it too. It's a collaborative thing. It's not just random; it helps them find the character. It's not fashion. It's about creating a world."
For Hayley Atwell, the English actress playing Julia, Ni Mhaoldomhnaigh needed to mark the moments where she's in the spotlight. "There are times when you want somebody to walk into a room and you want a 'wow' factor. For Hayley, there are times when you want her to open a door and look great but you also need to make sure the character is believable - it's a fine balancing act."
The fashions of the twenties, thirties and forties vary wildly and in the film Ni Mhaoldomhnaigh captures the contrasts beautifully.
"Women's fashions of the twenties are rather boyish and asymmetric, but in the thirties you have these dresses that just cling to the body. They're extremely feminine," she says.
For Thompson in particular, Ni Mhaoldomhnaigh had to bear in mind her hair color before she designed her costumes.
"We looked at going with a more natural color for Emma's hair, but eventually decided on silver, which is very striking, for this woman who has gone very grey, very young. It's not meant to age her - just to have a head-turning effect."
Although her work on the film now places her firmly in the big leagues, the Limerick woman isn't letting success go to her head.
"I'm not stressed out, I'm really enjoying these projects. I think there's always an element of luck behind what I do, but luck comes when you've really worked hard. You might get lucky once, but not five or six times.
"Working with Jim Sheridan was my break, which got more international attention. But now I'm enjoying all the challenges ahead."
Brideshead Revisited opens on limited release on Friday, before going nationwide.