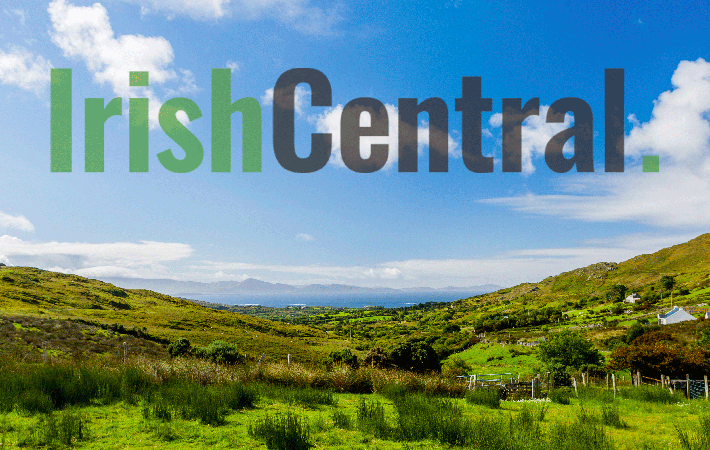 MARCH is the biggest month of the year for our bloodline. Everything Irish is hot for the party that starts now and ends sometime later this month. For one band, this month will be about telling stories from the front lines of the war.
Black 47 has just released their hard-hitting new CD, IRAQ. As the name would imply, the band that sang about Michael Collins and Bobby Sands during the Troubles have turned their rebel eyes to the situation in Iraq with explosive results.
"Johnny's hurt/his blood's soaked in the dirt," snarls an enraged Larry Kirwan on "Stars and Stripes," a bare-knuckle bar band tune that recounts a roadside bomb ripping two friends apart.
It's not the musical green beer that most Irish bands will be serving these weeks, but IRAQ is infinitely more satisfying nonetheless.
"What I'm trying to do is give people a sense of what it's like to be on the front lines in Iraq," says Kirwan, who says he was inspired in large part by the many Black 47 fans who email him while on active duty.
"There's a big need for this as we get mostly sound bites from the media. I stopped watching TV many years ago when I realized I was getting dumber than normal - a harrowing thought."
Black 47 was the quintessential Irish American band when they started almost two decades ago, mixing urban street sounds that were fashionable in their adopted land at the time with traditional pipes and reels.
IRAQ continues that tradition as the band paints these war pictures with ragtime-infused melodies, funky backbeats, wailing horns that call to mind Clarence Clemmons' finest work with the E Street Band, and chunky power chords.
For the first time, Black 47 plays the blues on the biting "Sadr City." Though the song is blue, it is laced with black humor.
"The song is about a guy patrolling Moqtada Al Sadr's (the troops call him Mookie) vast section of Baghdad," explains Kirwan. "The soldier becomes obsessed with Mookie and what he might be up to. All the members of Black 47 are conversant with the blues, so it was about time that we used one of America's most renowned art forms."
A noted playwright outside the band, Kirwan brings his Great White Way smarts into the music with character driven lyrics. He steps into the role of grieving mother on the touching "Ballad of Cindy Sheehan," a song that recounts the pain of the antiwar activist who made headlines when she camped out at President George W. Bush's ranch in Crawford, Texas to protest the war that killed her son.
"Sunrise in Brooklyn" is a touching story of a young man who meets a girl and shares a kiss under the Verrazano Bridge the night before he's posted to Iraq. "I hope I see the sunrise in your eyes," Kirwan pleads as mournful horns unfurl in the background.
Though the subject matter is not always easy to listen to, it is vital. The band plays each track with passion, enthusiasm and the heat of a grenade blast. Make no mistake: this is Black 47 at its provocative best.
In addition to the new CD, the band has just released Black 47 at Connolly's: New Year's Eve at Times Square (Home Team Productions), which is set to be included in the upcoming Westchester Film Festival at National Amusement's Citty Center 15 in White Plains on Saturday, March 8 at 2:30 p.m. (Visit westchestergov.com/filmfestival for more information).
This excellent film began as a concert video shot at the venerable Connolly's Pub, but soon morphed into a visual postcard of Times Square on its biggest day of the year, New Year's Eve. A treasure trove for fans at the band with early band footage, interviews with both players and the audience, and the riotous performance itself, the film weaves together a history of the band's beginnings, and by extension, a rich underlay of Irish American history and the diaspora.
The viewer is treated to an up-close look at the band's artistic process, the true stories behind many of the songs, and the sometimes revealing close camaraderie of long-time colleagues. No Irish rock fan should be without it.
I recently spoke with Kirwan about the new CD and the shrapnel that comes along with singing protest songs. Here's how it went:
There is the school of thought that would say that the role of Black 47 (or any other rock band) is to entertain. Some people get testy when their rockers lecture them from the stage. What is your response?
I would say that "school of thought" has little interest in citizen democracy. It's not only the right, but the duty, of everyone to speak up about the affairs of the country and what direction we're heading. Black 47 - though political at times - doesn't preach.
Even with IRAQ, the songs are allegorical and stories rather than rants. The last thing I want to do is get on stage and preach.
It would seem that you're almost taking a reporters' view of the war - feature articles in the New York Times Sunday Magazine set to music. Is that fair to say?
Anything but. If you look at any of the topical or political songs of Black 47 you'll see that they're all character driven. I always try to get inside the heads of the people that I'm singing about.
IRAQ is written mostly from the point of view of the soldiers serving in Iraq. It's an attempt to give their story and they appreciate that. It's neither a Republican or Democratic album, it's an American album full of all the hope and despair that the country has experienced for the past five years.
Cindy Sheehan is portrayed in the "fair and balanced" media as a shrill shrew camping outside President Bush's ranch, but your "Ballad of Cindy Sheehan" takes a different view. She lost a kid and spoke out against the war in a time of intense personal pain. Was that your intent to portray her in a more sympathetic light when you wrote that song?
I saw it as an opportunity to write about a woman's greatest fear - the death of her child - and in Cindy's case in an unnecessary war. I met her and was a bit guarded myself from all the negative gutter press reports. She was just a warm outgoing American mom who wanted to prevent other mothers from going through what she did.
You mentioned that many of the songs were inspired by direct feedback you received from the fans you have over there. Have any of them heard this and if they have, what was their reaction?
We traditionally have many fans who join the service to fund college education or join the National Guard to secure a mortgage. We respond to all emails from fans, so when they go to Iraq or Afghanistan they continue to write.
You get the flavor of the war from their emails. Even when they disagree with us politically, they still really appreciate that we are one of the few who are actually writing about them.
You've been in the music business for over three decades now. What do you think the fella who wrote "Funky Ceili" would think of the guy who made IRAQ?
I'd say he'd have some reservations. But how and ever. There's always been a balance between the earthy, humorous and the serious political with Black 47.
Right from the start "Funky Ceili" existed with James Connolly and the Big Fellah. Oddly enough with the passing of years - probably because of the weight of memory - you have just much more to draw on both in events and ways of seeing things.
I can still appreciate the humor of "Funky Ceili" and why it's so popular, but I can also feel the rage and loss of innocence that a young soldier experiences in "Stars and Stripes" from IRAQ. I've always been an ambitious writer - sometimes beyond my capabilities - but you've got to shoot for the moon.
My ambition is to write songs like Graham Greene writes novels or William Trevor writes short stories. That should take a couple of lifetimes and provide the "Funky Ceili" guy with even more reservations.
You always have so many projects on the burners. What's next?
Well, now we head around the country promoting IRAQ. We have six or seven good songs ready for a new CD. I've finished a novel, Rockin' the Bronx, set in the Bainbridge Avenue/204th Street area in the 1980s. And it looks as though, Transport, a Broadway type musical that Tom Keneally (Schindler's List) and I have been working on for many moons will get an airing in the fall.