"One of New York's beloved entertainers" lines up three gigs in Ireland before December Carnegie Hall show.
Andy Cooney, direct from New York, Star of Carnegie Hall, makes a welcome return to Ireland.  He will perform at The Brú Ború Theatre Cashel, County Tipperary, on Fri, Nov 23, Our Lady of Mt Carmel Church in Rooskey County Roscommon on Sat, Nov 24 and at The Celbridge Manor Hotel, Celbridge, County Kildare, on Sun, Nov 25.
Christened by The New York Times as "one of New York's beloved entertainers" Andy's beautiful versatile voice and vibrant stage presence makes him a dynamic performer as he renders songs from his latest CD, "Irish Country Skyline" performing his video hits; "Slaney Valley", "My Rose of Ballinrobe", and of course his smash hit "On the Eighth Day".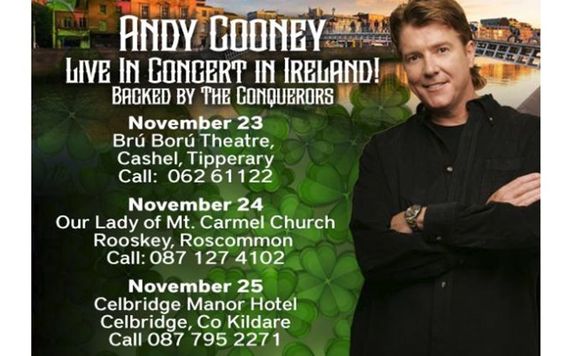 2
Andy will also perform songs from his collaborations with our very own Phil Coulter, "Noreen", "Remember Me" and "Calling Us Home" to his hits on the American-Irish scene, "The Irish Wedding Song", "Boston Rose" and "Daughter of Mine".
Andy is also one of "The New York Tenors" who have been receiving high critical acclaim and will enjoy their 7th Carnegie Hall performance this Dec 10.
The name Andy Cooney has also been associated with "The Cruise of Irish Stars" which for the last 21 years draws over 1,000 Irish and Irish Americans on a Caribbean Cruise where there are entertained by many talented top-class Irish artists.
This show will also feature The Conqueror's, one of Ireland's most popular bands and will feature special guests, Shauna McStravock on Nov 23, Eimear Reynolds on Nov 24 and Kathryn Smith on Nov 25.
For more information and tickets visit www.andycooney.com.