Alisha Weir's rise to fame has officially begun as the Dublin teen stars in Netflix's "Roald Dahl's Matilda the Musical," the film adaptation of Tim Minchin and Dennis Kelly's 2011 award-winning stage musical which is an adaptation of Dahl's classic novel.
Weir, now 13, was 11 years old when she was selected to play Matilda Wormwood after she impressed director Matthew Warchus with her "brilliant" listening skills.
"That's really important," Warchus told Netflix blog Tudum, "because if you listen carefully, you can take direction, and also you can listen to the people who you're playing a scene with, and respond to them."
Producer Jon Finn recalls: "We remember seeing the tape for Ireland and thinking Alisha Weir had something quite incredible. It was very obvious, even from her tape, she had an intensity and delight that makes you want to watch her.
"We flew her over to audition and she was remarkable. We were convinced from the first moment we saw her we had found our Matilda."
Of course, Weir, who attended drama school in Ireland, had some professional training under her belt having appeared in the Irish drama series "Darklands" and the Irish thriller "Don't Leave Home."
Weir recalls: "I felt the audition had gone well but I didn't know what they were thinking.
"I flew home to Ireland and went back to school. About two weeks later, on my mum's birthday, I was just home from school and Matthew Warchus wanted a Zoom with me. I realised this could go one of two ways but it was good news and I was so excited, I couldn't believe it really.
"Then I started to cry because I was so happy and it was just mad."
Weir's sweet reaction to landing the role was captured by her sister and shared on TikTok where it's since racked up more than 2.1 million likes:
Netflix says "Matilda the Musical" is a "brand new take on the Tony and Olivier award-winning musical. 'Roald Dahl's Matilda the Musical' tells the story of an extraordinary girl, with a vivid imagination, who dares to take a stand to change her story with miraculous results."
Break out the red berets because...

Roald Dahl's Matilda the Musical is now on Netflix (and now in UK cinemas, coming to @NetflixUK Summer 2023) pic.twitter.com/LRfFTdsBpv

— Netflix (@netflix) December 25, 2022
"I'd read the book and seen the film, but I hadn't seen the stage version," Weir told Tudum. "I just really like the character because first of all, she's really kind and loving, but she's very courageous — she's brave. She's very mature for her age — she's a kid, in the body of a child, but she has the mentality of an adult.
"So I just really like how she stands up for herself, and she's just trying to spread the word that we should all stand up for ourselves."
In the film, Weir stars alongside Hollywood veteran Emma Thompson, who plays Agatha Trunchbull.
"The first time I met Emma, she wasn't in costume and she was so lovely," Weir recalls. "Then I saw her as Trunchbull and she was terrifying, I'm tiny compared to her in these huge boots.
"It was really scary because she is so good at the part and makes it feel so realistic but after the scene she is lovely again."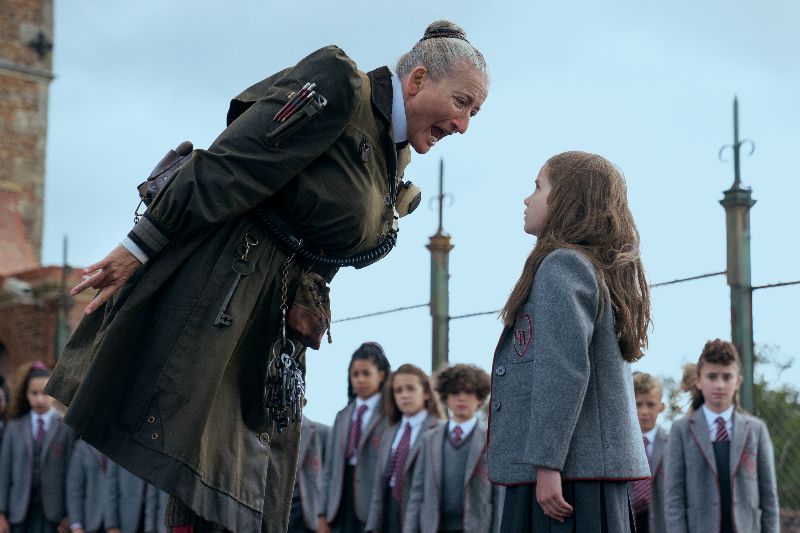 2
"Matilda the Musical" was released on Netflix and in select theaters in the US and Ireland in December, while it is set to arrive on Netflix in Ireland "soon." It was recently named the top family movie on Netflix in 88 countries.
The film is also faring well on Rotten Tomatoes, where it's been "certified fresh" with a critic score of 92%.
View this post on Instagram
It appears "Matilda the Musical" was a big first step for Weir - the Irish teen actor has since been confirmed to star alongside Olivia Colman and fellow Irish actor Jessie Buckley in "Wicked Little Letters" which is due out in 2023.