We brought the Pop-Up Gaeltacht across the US and even to Bali in Indonesia!
Last Thursday, August 29, IrishCentral joined up with New York Irish-language group Gaeil Nua-Eabhrac to bring Irish speakers in the New York area a chance to practice their Gaeilge (Irish).
Pop-Up Gaeltacht was first started in Dublin, an informal event that meets in a different bar on the last Thursday of each month as a great excuse for friends and strangers alike to get together, enjoy a drink and have a conversation in Irish. Open to any level of Irish from beginner to fluent, it quickly became a phenomenon and spread all over the country and the world with the very second one of its kind being held in New York City just a few weeks later. 
On August 29, the same evening the Dublin Pop-Up was being held, we linked up with Irish speakers in New York to host a Pop-Up Gaeltacht of our own but not just that! We called on all of you learning and speaking Irish around the US to set up your own on the same evening, to see how many we could host around the country on the same night. 
Thank you to everyone who established their own Pop-Up Gaeltacht in their area, to Gaeil Nua-Eabhrac for partnering with us here in New York, to the Irish Consulate in New York for their continued support of the event and to Molscéal at TG4 for allowing us to bring them an insight into some of the fun on the evening. 
Want to find out more about how you can find Irish classes in your area? We have a global list set up here and a guide on how to learn for free online here. 
Here's a look at all the different Pop-Up Gaeltachtaí: 
New York City
12
12
12
12
Seattle, Washington
12
12
Pittsburgh, Pennsylvania
12
Los Angeles, California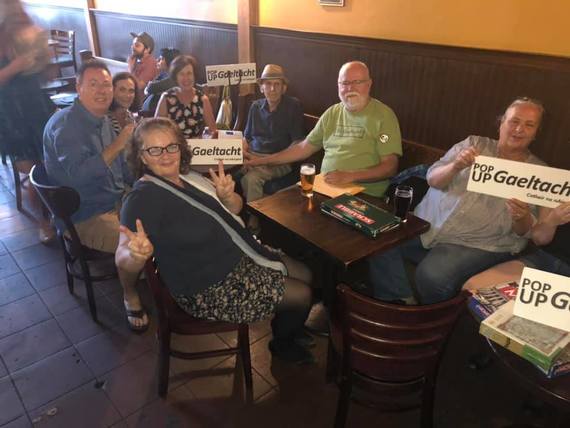 12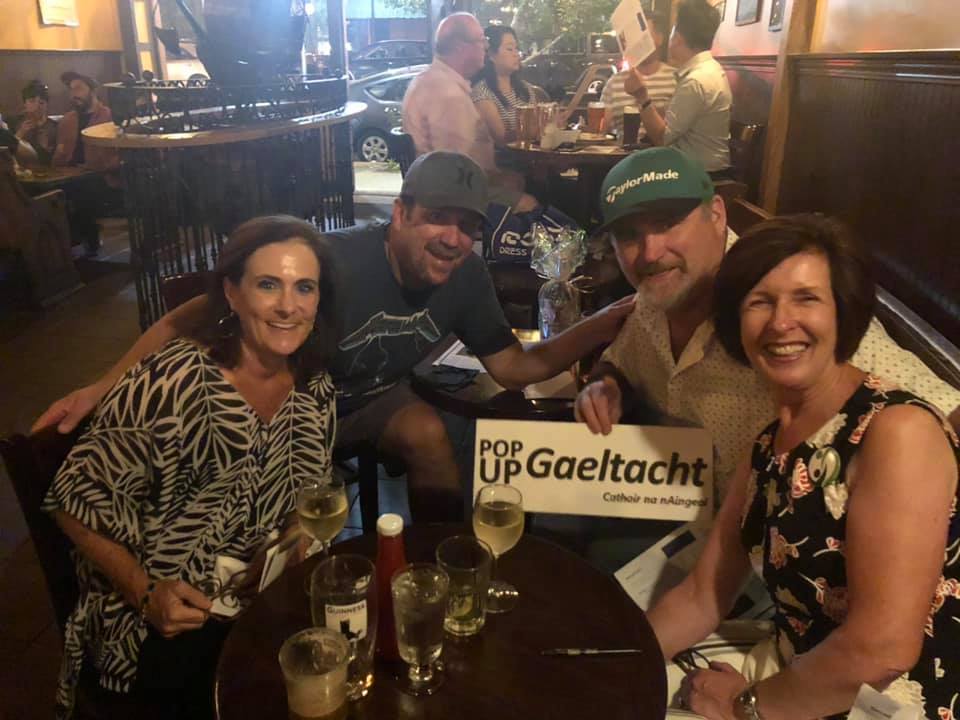 12
La Jolla, California
Sláinte!

"Sláinte" ó La Jolla!!! Féach ar é seo!!! Dúirt muid le na daoine eile cad a bhí muid ag déanamh, agus bhí an teach tabhairne ar fad ag canadh "sláinte" linn! Go raibh míle maith ag Laura G Drexler​ as a fiseán iontach seo! Take a look at this!!! We told everyone about the event, and got everyone in the pub to call out "Sláinte" with us! A huge thanks to Laura G Drexler for recording this amazing video!

Publiée par Pop Up Gaeltacht La Jolla sur Vendredi 30 août 2019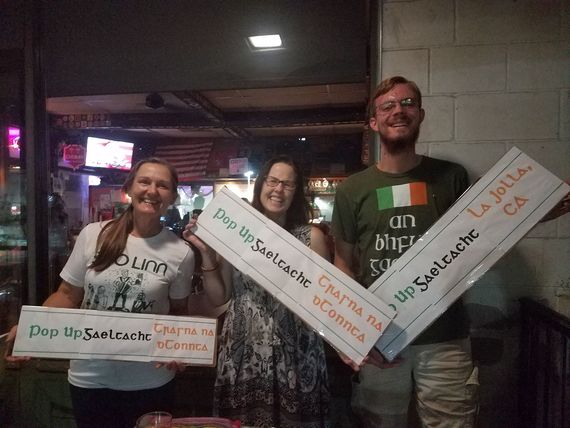 12
And Bali, Indonesia!
A week on and I've found out this great group in Bali also did their bit for the Pop-Up. Míle buíochas le St Patrick's Society Bali agus go n-éirí libh le Gailf le Gaeilge! pic.twitter.com/NjMsdmSkUd

— Frances Mulraney (@FrancesMulraney) September 5, 2019
Pop-Up Gaeltacht events still to come ...
Since last week, we've heard that Seattle is now set to hold once each week. It will meet every Wednesday evening at 6 pm at the  Fremont Shawn O'Donnell's. There is also an Irish music session on Wednesdays at 7-7:30 pm for those musicians who also speak Irish.
San Francisco: There is an ongoing Pop-Up in San Fran with the next one happening on September 14. You can find the information on the event here. 
And of course, if you're in Dublin, you'll find one once a month. All the info is here. 
Live in Long Island? These new classes are starting soon for you:
12
Want to find out more about how you can find Irish classes in your area? We have a global list set up here and a guide on how to learn for free online here.