The Wishing Chair Foundation wants to bring American college students to Ireland
The Wishing Chair Foundation, which supports American students studying abroad in Ireland, formally launched their initiative on February 20 at the Irish Embassy in Washington, D.C.
Read More: Mulcahy will continue sending US children to Ireland with new scholarship
Hosted by Irish Ambassador to the US Daniel Mulhall, the event brought together representatives from Irish organizations and colleges for the launch.
I was delighted to host supporters of @WishingChairFdn last night & to hear testimony from US students who have participated in study programmes in Co. Donegal. pic.twitter.com/LcQyas5QmA

— Daniel Mulhall (@DanMulhall) February 21, 2019
The Wishing Chair Foundation aims to raise funds to provide scholarships for US Community Colleges who do not have the means to access study abroad programs to Ireland.
The Wishing Chair Foundation was set up to fund educational travel to this beautiful part of Ireland's Atlantic Coast. It is for students for whom study abroad is inaccessible, unaffordable, or unimaginable. Learn more at https://t.co/FpnMNrybYV

— The Wishing Chair Foundation (@WishingChairFdn) November 15, 2018
Taking its name from a scenic spot on the Donegal coastline, The Wishing Chair Foundation is the brainchild of Donegal natives Dr. Niamh Hamill and John O'Connell, who have together been running study abroad programs in Ireland's Northwest since 2001.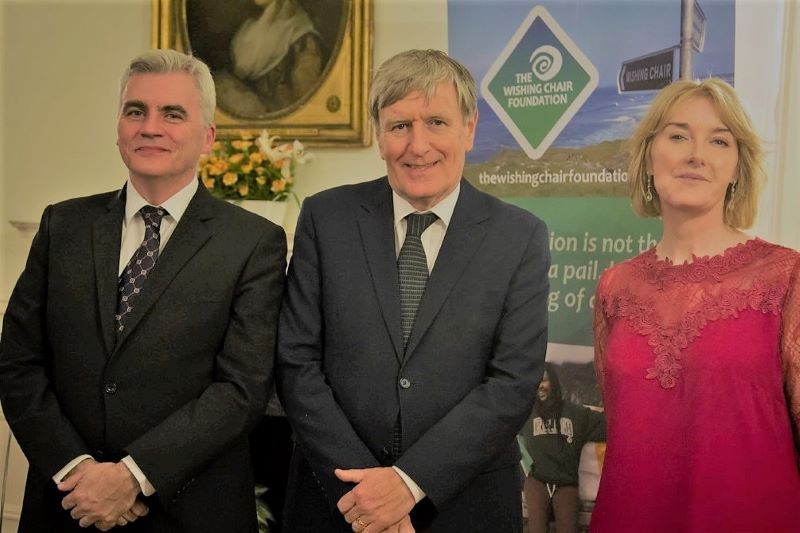 2
Read More: Summer program in Donegal is a dream come true for teens who love Ireland
At the event, Ambassador Mulhall spoke about his admiration Ireland's diaspora and his determination to develop and diversify Ireland's links in the US, including in the education sphere.
Several Americans who have already taken part in Irish study abroad programs spoke about the impact such programs have.
Kirsten Quinn, a student at Birmingham Southern College in Alabama said: "my choice of study and my career aspirations were a direct result of my transformative experience in Ireland."
Thomas Boyd, from Clackamas Community College Oregon, explained how he had a "hard life" growing up and limited to no access to study abroad programs.
"However, through the program at Clackamas Community College, I was able to open myself up to a world I never knew existed. This profound event was only possible thanks to programs like the Wishing Chair Foundation."
Read More: The top 5 reasons to complete postgraduate study in Ireland
Dr. Niamh Hamill, academic director of the Wishing Chair Foundation, concluded the launch saying: "If we bring students to Ireland to share narratives, we create empathy, and from empathy comes critical thinking, and the urge to change things for the better."
You can learn more about The Wishing Chair Foundation on their website, Facebook,  Twitter, or Instagram.
Have you studied abroad in Ireland? Share your experience in the comments!