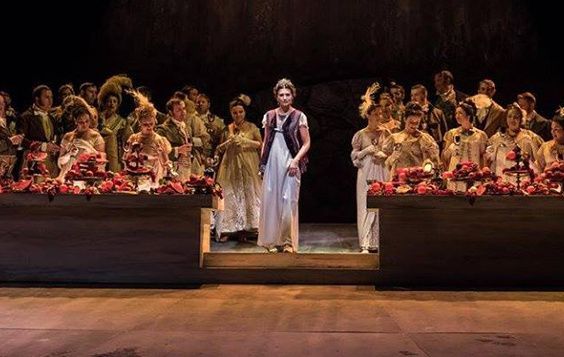 From the world-famous Wexford Festival Opera to food and flower fests, to renowned authors like John Banville and Colm Tóibín, Wexford's creative roots run deep. There's something for everyone in the Model County.
These are the upcoming events and initiatives you have to check out as Ireland embraces its creative and artistic prowess as part of the government led Creative Ireland initiative.
9
And Creatures Dream...A New Language is group exhibition presented by The Arts Department of Wexford County Council in partnership with Wexford Arts Center which reveals how the visual arts are represented in County Wexford through painting. Wexford County Council, Carricklawn and Wexford Arts Center from July 1 through August 25, 2017.
9
Take a deep breath of plein air at this outdoor painting festival based in Wexford town. Open to all artists, it features paint-outs, workshops, life drawing, lectures, and social events. Over 200 artists from around the world will congregate to take part in and teach the joys of plein air painting. July 30 - August 7.
Living Art - Art in Schools
9
The Creative Ireland Program 2017 will allow for an extension of the highly successful Living Arts in Primary Schools program run by Wexford County Council in partnership with Wexford Arts Center. A team of artists provides children with understanding and experience of contemporary art-making in 4 primary schools per year, over 15 weeks. 
9
The Enniscorthy Rockin' Food Festival 2017 promises a fun weekend with outdoor music events, a rock & roll gig trail and food, craft and beer markets, and plenty of activities, all in the lovely town of Enniscorthy. Be there from August 4 - 7, for Ireland's August Bank Holiday weekend.
9
Wexford Festival Opera is one of the leading Opera Festivals in the world and each year attracts audiences from home and abroad who travel to Wexford to experience this unique celebration of Opera. Now in its 66th year, this year the festival runs from October 15 - November 1 and will include productions of Medea, Margherita, and more.  
Film Wexford
9
Plans for a new website aimed at attracting film location companies, national and international, into County Wexford are being developed in 2017. The website will also be aimed at encouraging an indigenous film industry. Work on the new 'Film Wexford' website will begin in Oct 2017 with a view to launching the site in early 2018.
9
Running in tandem with the Opera Festival is the Wexford Fringe Festival, an open-access arts festival offering an eclectic mix of over 300 events over 17 days including cabaret, comedy, circus, dance, film, theater, puppetry, music, and visual art. October 19 - November 5.
New Ross - Graves & Co. 
9
Graves & Co. were one of the main shipping companies that facilitated emigration from the ports of New Ross and Wexford to Savannah, Georgia in the 1840s-1860s. This project will involve cataloging and preparation for digitization of an important collection of original documents, mainly comprised of correspondence (approx. 2,500 letters) covering the period c. 1855-75, many of which refer to families emigrating from Wexford. This project is part of the Wexford/Savannah Axis Research Project – a major new research and heritage initiative that was established in 2013 to chronicle the historic links between Savannah and County Wexford.
The Norman Way/Norman Wexford has been created to place Wexford as the heart of Norman Ireland. The Norman Way raises awareness and education on the Norman way of life and allows the visitor to learn about the rich legacy through the outstanding medieval Norman Castles and Churches that are located throughout County Wexford. Funding will assist in creating awareness of Wexford's unique and important Norman history through various events including a launch with promotion booklets, lecture and discussion evenings with local people and businesses, a Norman Heritage School pack a heritage cycling tour and the development of Website and interpretation.
Check out Waterford's full Culture and Creativity plans here.
Are there more cultural events in County Wexford you think people should know about? Let us know in the comment section.