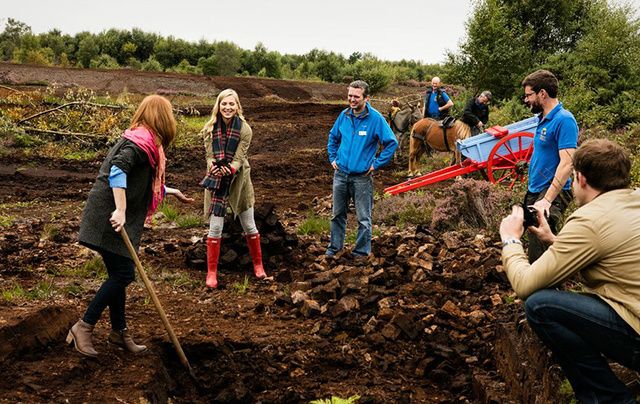 This year, government initiative Creative Ireland is highlighting some of the best projects, events, and initiatives that are bringing culture and the arts to the forefront in every Irish county and Co. Kildare is no different.
It's a countycharacterizedd by a spirited traditional and contemporary Irish music scene and an abundance of world-renowned singers, songwriters and musicians - as well as artists, authors, explorers and revolutionaries - Kildare's creative waters run deep.
Perfectly situated among historic landscapes such as the Curragh Plains and Pollardstown Fen, the county is the home of the likes of actress Aisling Bea, sculptor Gabriel Hayes, novelist Molly Keane, and many others. And that's not to mention some of music's brightest stars who claim Kildare as their home, from indie band Bell X1 and performer Luka Bloom to Jack Lukeman, Donal Lunny, Christy Moore and Damien Rice.
For people planning on visiting Kildare we especially recommend you check out these upcoming events and initiatives, which are a part of the Creative Ireland county initiatives and beyond.
9
Back for its third year, Kildare Town Medieval Festival is a popular community event promoting the town's fascinating medieval heritage. This year's theme for the event will be "The Vikings", who invaded Kildare 15 times. Locals will be preparing themselves for another invasion this August 20, when the town comes alive with a mix of medieval displays and fun activities for all the family.
Traditional Irish Music Orchestra
9
This year, Kildare County Council will support the establishment of a Traditional Irish Music Orchestra by providing grant aid to Leixlip Comhaltas Craobh Bheartla Uí Fhlatharta. The project will research Old Masters traditional Irish music. 
9
Heritage Week 2017 is Saturday, August 19 - Sunday, August 26. This year is packed full of exciting events all across the county, all of which celebrate Kildare's rich and varied heritage and everyone is invited to come out and get involved. National Heritage Week is a wonderful opportunity to shine a light on not only our heritage but the work of hundreds of Kildare volunteers who give their time to preserve and promote it.   Across Kildare, there are over one hundred events many of which are organized by community, history, heritage and tidy towns groups to showcase their local heritage. This week presents an opportunity to take part in one of the numerous walks to discover the wealth of fascinating heritage within the county. 
Detailed Heritage Week Event Guides can be found in all libraries, Museums, Heritage Centres and Kildare County Council Offices or downloaded from here. 
9
"Illuminating Heritage - the walls of Athy through the Artist's Eye"
9
Athy, the main town in South Kildare, described in 1431 as the "greatest fortress and key of the countryside" was once a walled town but the medieval town of Athy and its town walls are hidden, awaiting discovery. No physically tangible remains of the town walls survive above ground, and the true development and layout of the medieval town are not fully understood.  
Through "Illuminating Heritage - the walls of Athy through the Artist's Eye", it is proposed to explore the medieval within the modern town. A number of artists have been invited to collaborate with historians and archaeologists to generate authentic, accurate and innovative avenues of interpretation of Athy's medieval history.
The public will be invited to witness the collaboration in July and September.
Training and professional development for festivals/cultural committees
In order to ensure the continued success of festivals and cultural events in Kildare in the future, training and professional development for festivals/cultural committees will be made available, including video editing and social media training for groups and organizations involved in cultural activities in Kildare. 
9
Culture Night will be a national event taking place on September 22, 2017, with every county in Ireland encouraged to take part. Kildare Culture Night and Weekend will run September 22 - 24, promoting the county's vibrant arts and culture scene. Various events will be hosted over the three days across many towns and organizers will be hoping community spirit will be on full show.
9
The free Summer Stars program provides the whole family with an opportunity to explore the full range of events and facilities which are available in their local library, such as story time sessions, children's activities, access to talking books and games, computers and Internet access, and of course, children's books for all ages. 
9
Kildare Readers Festival will return for its eighth year to the delight of book lovers and writers alike. Featured guests attending this year's event have yet to be released but organizers will be looking to capitalize on the success of last years festival which welcomed many well-known figures across the Irish and UK arts scenes. October 13 - 15.
Check out Co. Kildare's full culture and creativity plans here.
Is there an upcoming event in Co. Kildare you think people should know about? Tell us in the comment section.