This year, government initiative Creative Ireland is highlighting some of the best projects, events, and initiatives that are bringing culture and the arts to the forefront in every Irish county and Co. Kerry is no different.
Already a highly popular tourist destination, Kerry is home to the National Folk Theatre of Ireland, the Tralee Institute of Technology, portions of both the Sliabh Luachra Music Trail and the Wild Atlantic Way, the Valentia Trans-Atlantic Cable Station and Listowel Writers' Week, as well as being home to two Gaeltacht (Irish-language speaking) areas. 
Producing icons such as John B. Keane and Michael Fassbender,'Tthe Kingdom' has unrivaled scenery that could spark creativity and imagination in anybody. 
Here are some of the best events and long-term initiatives you should know about in Co. Kerry:
The Rose of Tralee is a flagship event on the Irish festivals calendar, connecting the global Irish community during a week-long celebration of Irish culture and heritage with entertainment for all the family, including the always highly anticipated selection of the 2017 Rose of Tralee. August 16-22, in Tralee, of course.  
10
Co. Kerry GAA star and winner of Ireland's edition of "Dancing with the Stars" Aidan O'Mahony will represent his home County as an ambassador promoting the arts on Friday, September 22, as Culture Night takes place right across Ireland between the hours of 5.00 and 11.00pm. Aidan has become a passionate supporter of dance stating, "Dance is a tonic for the brain and the body, hugely enjoyable and a powerful way of expressing your creativity.'" He says he is calling out to all ages and especially to young people "to get involved, to check out the program and take part in an arts event, there's huge choice."
This ongoing, multi-disciplinary outreach project is aimed at secondary schools in Kerry giving students the skills to creatively explore the past and to engage with their heritage in a unique way. The project is based on Killaclohane Portal Tomb, Kerry's oldest man-made structure, which was excavated by KCC's archaeology department during 2015.
10
Dancer in Residence at Kerry County Council Catherine Young is working with new and established communities in Tralee and Killarney on a dance piece which is a follow-on to last year's hugely successful "Welcoming The Stranger", a show which was invited to the Ramallah Contemporary Dance Festival in Palestine in 2016.
"Welcoming The Stranger – The Sequel" looks at the notion of "home" and where that is. It features an international cast of dancers and musicians and spans a myriad of dance styles. The new show will premiere at Siamsa Tíre Tralee on Culture Night September 22 at 8 pm.
Youth Choral Kerry
10
Youth Choral projects under way in Kerry reach out to young people ages 8-18 to explore singing and vocal training as an expression of their creativity. Professional conductors are in place in South Kerry, Killarney, Tralee and Listowel. All choirs have arranged an open session on Culture Night (Friday, September 22), inviting new members and the public in to see the work that they are doing.
Baritone Gavan Ring's project in South Kerry was extended as a result of Creative Ireland Kerry funding and has embraced young people from all over the South Kerry Iveragh area. At the Cahersiveen Festival of Music & the Arts, the choir performed to 700 attendees on the weekend of August 5 and 6.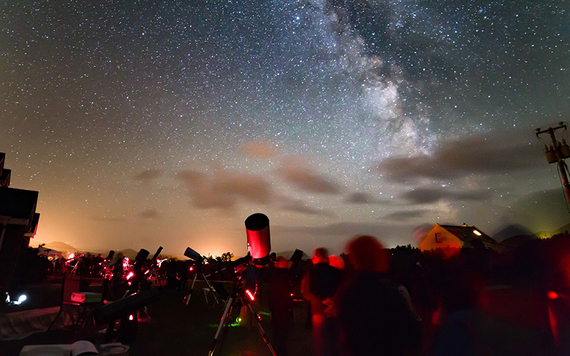 10
This is for astronomy enthusiasts. This area of Kerry is one of the few places where there is 'Dark-Sky,' where the skies can be seen much more clearly because of the absence of light and other pollution. With the support of the Kerry International Dark-Sky Reserve, the event takes place at the Skellig Lodge, in the heart of Kerry's Ballinskelligs from August 18-22.
Cultural Archive Awards
These awards – one per Municipal District – will enable communities to document key cultural history in their areas that reflect both ancient traditions and living culture. 
10
This is the most scenic Marathon in Ireland. It begins at the Marina in Dingle and runners will experience spectacular views of West Kerry and The Blasket Islands. There is both a full marathon and half marathon, with room for fun runners and walkers taking part. Spots in the races are sold out for 2017, but cheering and onlookers are very welcome. September 2, 2017.
10
To increase the engagement of young people in music, Creative Kerry will deliver one additional music project per Municipal District and work with professional artists and interested providers to deliver workshops and give performances in a public space/ center. For example, Gavan Ring's choral project with 40 children in Caherciveen is being extended as a direct result of the Creative Ireland Programme funding to include children in the greater Iveragh Peninsula.
10
This has grown to be one of Ireland's foremost food festivals. There are cookery demonstrations and master classes given by well-known chefs as well as numerous food stalls, street entertainment, music, kids entertainment and more. Begins September 29 – October 1, 2017.
10
Don't miss what will surely be the most unique street parade you'll see all year. Led by a piper and a man depicting the Old Year, you'll be surrounded by blazing turf torches, as he 'dies' on the stroke of midnight, giving way to a vibrant New Year. December 31 in Portmagee.
10
The Sliabh Luachra Music Trail is a joint initiative from the Arts Offices of Cork and Kerry County Councils which aims to promote and preserve the region's unique musical heritage, working with local arts organizations to stage concerts, sessions, talks, workshops and master classes. As part of this, regular music events take place throughout the year. The Handed Down Series in the Heritage Centre in Scartaglin, Co. Kerry is a regular event each month, starting at 8 pm. In Castleisland, Co. Kerry Browne's Bar has a session every Tuesdays at 10 pm (winter) and 9 pm (summer) with Tony Halsall, Joe Lane, Dermot Schollard & Tim. There is also a session every Friday with different guests at 10 pm (winter) and 9 pm (summer).
Check out Co. Kerry's full culture and creativity plans here.
Is there an upcoming event in Co. Kerry you think people should know about? Tell us in the comment section.