An Irishman who launched racist and violent Facebook messages against British Home Secretary Priti Patel and former Northern Ireland First Minister Arlene Foster has received 22 months jail time. 
Gerard Traynor, 53, a Dublin-born nationalist living in Oldham, Manchester, has received a sentence of 22 months for his online harassment of two politicians: Priti Patel, who was recently announced by Boris Johnson as the UK's new Home Secretary; and DUP leader Arlene Foster, the former Northern Ireland First Minister.
Traynor was arrested in January after posting hate-speech filled diatribes on both of the politicians' Facebook pages. 
The politicians said they felt intimidated by the messages sent by Gerard Traynor, and that they went beyond reasonable free speech https://t.co/EYpxowhuDR

— Manchester News MEN (@MENnewsdesk) July 25, 2019
Among his comments on Secretary Patel's page, he called her a "dirty, Indian Ugandan, black P*** n****r" and wrote "Send dirty P*ki back in Asian countries where they belong," the Daily Mail reported. 
On Foster's page, he posted numerous calls for violence, including "Why don't you kill yourself or IRA blow you up? There should be coordinated attacks on unionist shops and schools, less Orange men breeding like pigs."
Read More: Threat to cut Ireland's food supplies by leading Tory politician Priti Patel
Further of Traynor's vile posts called for Foster to take her own life and suggested that Unionist women should be raped. 
In a statement to police, Patel said: "I converse with the public on a daily basis this can provoke debate and I am faced with criticism. This incident has taken acceptable behavior to serious criminality, the content was shocking and disgusting in its nature and the messages were racist, grossly offensive, hugely upsetting and caused me to feel intimidated.
"It had a huge impact on both my personal and professional life, I am a lot more wary of my surroundings when I am in public."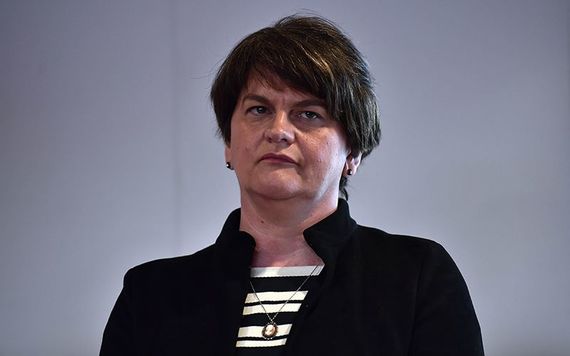 2
Foster stated "I expect a degree of commentary but these messages overstep the mark of free speech. I don't know the sender, where he was or what his intentions were. I was concerned about my own movements, but at least I am in control of my own movements … My concerns were for my family and those around me."
Read More: Unionist Foster could collapse May's UK government
Traynor's defense attorney, John Marsh, told the court that his client struggles with Asperger's syndrome and cited his turbulent early years. His biological father, a doctor from India, abandoned his mother, an Irish nursing student, before she gave birth, and her family allegedly forced her to place him in an orphanage run by Catholic sisters. After being returned to the orphanage by one adoptive family, he was adopted and raised by another family with strong Catholic, nationalist views. 
He held eleven past convictions for similar offenses, The Guardian reported, most recently including a 2017 suspended sentence for "racially or religiously aggravated common assault." 
Gerard Traynor trolled DUP leader Arlene Foster urging her to kill herself and called for an ''Armenian genocide of unionists and the killing of all Orange people.'' https://t.co/OlmQWt7LLs pic.twitter.com/9ok9suMt4u

— Belfast Telegraph (@BelTel) July 25, 2019
During his sentencing, Judge Simon Bryan of Manchester Crown Court said "This was not the exercise of the democratic right to free speech or the type of critical commentary that all politicians face on a day to day basis. On the contrary, the messages are deeply offensive and threatening."
He described Traynor's words as "debased language that has no place in our multicultural society and was designed to demean and incite racial hatred."
Read More: Over one in three Irish women have been harassed in public