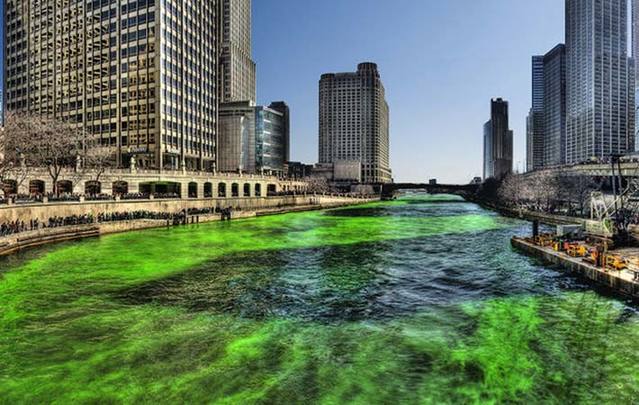 A little bit of Irish American history passed forever last week. Mike Butler, the man who in 1962 started the annual St. Patrick's Day tradition of dying the Chicago River green, has died at the age of 81. Butler died of pneumonia.
Just as dying the river was a Chicago St.Patrick's Day tradition so was the annual speculation about how it was done and who was responsible for it. One extraordinary aspect of the dying, one that few knew, was that it took orange dye to make it all work.
Butler's family, along with another family of volunteers, the Rowans, have turned the Chicago River green every St Patrick's Day for more than half a century.
"It's special," Butler once said of the tradition. "We're the only city in the United States that does it. Nobody has been able to quite duplicate it. Other cities have tried. Maybe they get a little color in, but they never succeed the way we get the Chicago River."
Chicago River dye-er Michael L. Butler is dead at 81: A Green Giant is gone. Mike Butler,… https://t.co/jRpIuW4Dn3 pic.twitter.com/zXUZoV9Gtn

— South Side Chicago (@SouthSideBuzz) July 15, 2016
He added: "We never let anybody else know exactly what we do beforehand and during the process to get a completely green, Irish river." 
"He was very, very secretive about the dye," said his daughter, Kathleen Unes.
She said that after her father picked up the powder each year he would hide it in the garage.
"He'd say, 'I'll take it to my grave,' " she said of her father's secret process.
The Rowans know the source of the nontoxic powder, said Tom Rowan.
Read more: Mesmerizing sequence of photos of the dyeing of the Chicago River for Paddy's Day
"We always refer to it as 'leprechaun dust,' " Rowan said. "We have never told anybody what it is."
The river-dyeing tradition began in 1962. Although its genesis is unclear, most agree that it began with the Chicago Journeymen Plumbers Union, the sponsor of the St Patrick's Day Parade.
"Daley wanted something spectacular" for the holiday, said Butler's wife Marlene, referring to Mayor Richard J. Daley.
She said their "light-bulb moment" was when someone noticed a plumber splashed with green stains from a substance used to check for leaks.
Marlene said the Rowans and Butlers figured out the best way to distribute the orange dyeing powder was by shaking it through old-fashioned flour-sifters. Then, a second boat, called "the 'Mixmaster,'" churns the water, and the orange dye changes the water to a phosphorescent green.
In 1998 Butler and his son Mark flew to Dublin to dye the River Liffey for St Patrick's Day. When spectators in Dublin saw the orange dye, they booed.
"They thought it was some kind of Protestant protest against the Good Friday [peace] agreement" between Catholics and Protestants, said Gary Flood, a producer of the Dublin St. Patrick's Day festival.
Butler told the Sun-Times in 2010 that after some jet-skiers churned the Liffey, the water started to turn green and the crowds cheered and started yelling "Peace."
Flood said Butler was "the living definition of the Irish who are hugely proud of their heritage."
The river-dyeing process is a time and energy consuming one as arrangements must be made for boats and for cranes to lower them into the water.
After turning the river green, Butler would sometimes ask a priest for dispensation to break his Lenten alcohol fast. After the priest gave him permission, Butler would have a Jameson's Irish whiskey to congratulate himself on another dye job well done, said his family.
Mike Butler grew up near 87th and Ashland in St Kilian's parish. His mother was from Roscrea, Co Tipperary, and his father was from Co Kerry. He earned a Master's Degree in Political Science from Loyola University.
Butler met the former Marlene Vyneman, a Quad Cities native, after she arrived in Chicago to work as a nurse.
"He swept me off my feet, his Irish charm," she said. They got married nine months later.
The Butlers were friends of the Daley Family, and Butler worked as an assistant to the alderman of the 18th Ward James C. Murray. He worked under seven mayors in a variety of roles at City Hall, including assistant port director and with the Department of Streets and Sanitation. For a time he headed the city's "Snow Command," helping develop the winter parking ban on main streets. His last job was traffic engineer.
In 2010, Butler's son Mark died of cancer. Relatives said it was a huge blow to the determined and loving father.
"He was the type of man who never took no for an answer," said another daughter, Patricia Hansa. "He always knew somebody who knew somebody." 
But, with his son's death, she said, "There was no negotiating or somebody he knew who could fix it."
Mike Butler is survived by his wife, daughters and 14 grandchildren.
H/T: Chicago Sun-Times.