Notre Dame players make annual awards watch lists.
Posted on Friday, July 13, 2012 at 07:08 AM
Recent Posts
Archives
+ 2012 archives
+ 2011 archives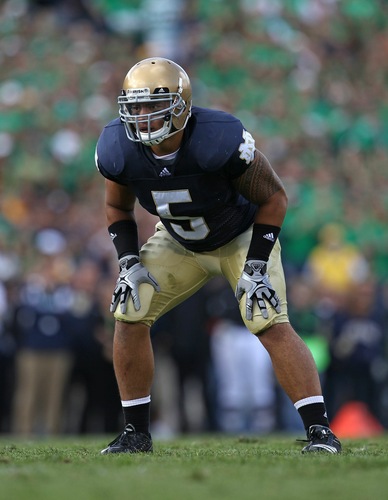 All-american LB Manti Te'o
No fewer than six Notre Dame Fighting Irish players have made the annual awards listings for the forthcoming 2012 season.
By far the best chance for any potential winners for Notre Dame and the prestigious awards, are those who were highly considered last season.
For Notre Dame, those individuals are All-American's LB Manti Te'o and TE Tyler Eifert.
Te'o is back for his senior year when many believed he would opt to join the professional ranks of the NFL last season.
The 6'2" 255 lbs MLB currently ranks as the eight all time leading tackler for the Fighting Irish with 324, has made the watch lists for the best defensive player in the nation, Chuck Bednarik Award and the Bronco Nagurski Award, along with fellow senior Kapron Lewis-Moore.
Eifert continues a rich tradition and legacy at Notre Dame for producing some of the top calibre tight ends in the sport.
Eifert is hot favourite to win the John Mackey Award for the nations best tight end.
He is the only tight end in the country to make the Maxwell Award watch list and is joined on the list by fellow Fighting Irish, RB Cierre Wood.
Offensive linemen Zack Martin and Braxston Cave made the Outland Award watch list for the best interior lineman, with Cave also getting notables in the Dave Rimington Award for the best center in the country.
Jason is owner and author of godcountrynotredame.me and writes for both IrishCentral and domersportsreport You can find Jason on twitter at @jayomahony
Comment
Be the first to make a comment.