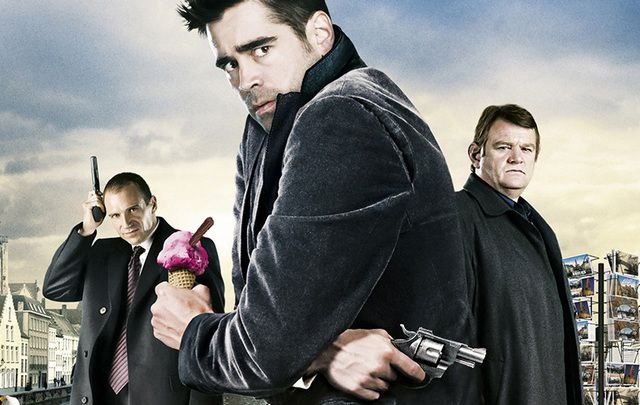 If you're looking to binge on some TV this weekend, why not put an Irish spin on your viewing stream and watch films or TV shows that have been made in Ireland or that star some of our best acting talent. There are plenty of choices available as, if we do say so ourselves, as a nation we've created some great stars and some great films in our time. To get you off on the right foot, we've compiled this list of some of the best movies and TV shows on Netflix with an Irish link. Enjoy!

1. Frank (2014)
This film may not be for everybody but Lenny Abrahamson's "Frank" features Michael Fassbender (unfortunately with a mask over his head for the majority of the film) in a remarkable story of a flamboyant, larger than life and extremely temperamental band front-man, Frank, who spends his whole life wearing a fake head. Domhnall Gleeson plays an aspiring musician who joins Frank and his relatively unstable and haphazard motley crew of musicians in this witty and quirky film that deep down is an incredible insight into the lives of those struggling with their mental health and trying to get by on the fringes of society. A fantastic performance from Fassbender in particular who uses his voice and body to put in a wonderful performance.
2. The Secret of Kells (2009)

This stunning Oscar-nominated feature will enchant viewers young and old. The work of Kilkenny-based animation studio Cartoon Saloon, "The Secret of Kells" draws upon The Book of Kells, Ireland's venerable and most famous illuminated manuscript, for both its unique animation style and its plot. Set in the eighth century in the Abbey of Kells, it centers on a boy named Brendan whose uncle, the Abbot Cellach (voiced by Brendan Gleeson) watches over Kells with a well-intentioned but stern eye, intent upon building a wall high enough to keep out the Viking invaders. Having narrowly escaped a Viking attack on Iona, Brother Aidan (Mick Lally) and his cat Pangur Bán arrive in Kells, seeking a safe place to complete the Book of Iona illuminated manuscript. Against Abbot Cellach's wishes, Brother Aidan soon enlists Brendan's help, which results in him venturing into the forest outside of Kells' walls, where he meets a spirit named Aisling. Danger of the snake-like pagan deity and the Viking variety ensues as Brendan must choose between obeying his uncle and protecting the book.The animation is simply breath-taking - unlike anything else before this film, or since.



3. Whitey: United States of America v. James J. Bulger (2014)
If you're having courtroom drama withdrawal after finishing off docuseries "Making a Murderer," this may be the answer. Although this telling of the infamous life of the South Boston crime boss doesn't involve the lovely Johnny Depp, acclaimed documentarian Joe Berlinger takes on the tale of James "Whitey" Bulger including interviews with those involved in his sensational 2013 trial. 


4. My Left Foot (1989)

Esteemed Irish filmmaker Jim Sheridan's directorial debut, "My Left Foot" is the movie that made
Daniel Day-Lewis
and earned him his first Oscar. Here he takes on the role of real-life figure Christy Brown, an Irishman severely disabled by cerebral palsy, who came to write and paint using the only limb he could move - his left foot. The movie may not be quite as immediately gripping as "The Boxer" or politically charged as "In The Name of the Father" (both also directed by Jim Sheridan and both currently streaming on Netflix), but Day-Lewis gives an astounding performance, and contemporary film history has it that "My Left Foot" was the first movie for which he tried the total immersion form of method acting he's now famous for. Day-Lewis insisted upon staying in character between takes, with the crew aiding him, and broke two ribs from spending so much time hunched over. Brenda Fricker, Cyril Cusack and Fiona Shaw top off the extraordinary cast.

5. Run and Jump (2013)
A much more recent film than most on this list, Run and Jump is a wonderful little film that boasts stellar performances from Maxine Peake, Edward MacLiam and well known American actor Will Forte. The story follows Conor, an Irishman who suffers a stroke that leaves him mentally challenged and who must go through months of rehabilitation, changing completely the family dynamic between his wife and children. Forte plays an American doctor who receives a grant to study Conor's recovery in Ireland and events unfold in a touching and poignant manner. Shot on location in Wicklow and Kerry, Run and Jump is a film that is well worth a watch on Netflix.

6. Waking Ned Devine (1998)

The small Irish village of Tulaigh Mhór (Tullymore) gets up to hilarious hi-jinks after it's revealed that one of their own, Ned Devine, has won Ireland's National Lottery. Unfortunately, as Jackie and Michael, the two elderly best friend protagonists, discover, Ned was so delighted that he died from shock sitting in front of his TV when the winning numbers were called. The whole town, except for one scheming lady, agrees to convince the Lotto Inspector that Ned is still alive so they can collect and share the winnings. The famous naked motorcycle scene will have you tearing up with laughter. James Nesbitt and Fionnula Flanagan also star. 
7. In Bruges (2008)

If you're a fan of humor so dark it toes the line between hilarious and truly uncomfortable, this first feature-length film by playwright Martin McDonagh is for you. "In Bruges" stars Colin Farrell and Brendan Gleeson as hit men, ordered by their boss (Ralph Feinnes) to take a "holiday" in Bruges after Farrell's character Ray botches a job. Expect violent chases through the incongruously quaint Flemish city, doomed romance, an intimidating dwarf played by Jordan Prentice, rotund American tourists, bell towers, vengeance, and figures from Hieronymus Bosch's Garden of Earthly Delights come deliriously to life.


8. The Fall (2013)
This BBC miniseries thriller has been a game-changer in terms of how Northern Ireland's capital is portrayed in popular culture. Corruption, local politics and sectarian violence still lurk in the background, but the series' main focus is a hunt for a serial killer that could take place in almost any city in the world. Gillian Anderson (of X-Files fame) stars as Detective Superintendent Stella Gibson, who is brought over from London to investigate a murderer (played by a terrifying and at times uncomfortably sympathetic Jamie Dornan) who is targeting young professional women around Belfast.The series is smart, challenging and tricky, with just the right melding of sub-plots and red herrings to keep viewers constantly guessing. "The Fall" is also one of your last chances to see Belfast-born-and-raised Dornan in action before he became famous for playing the rich, dominant and frequently naked Christian Grey in the "50 Shades of Grey" film. Season three of the thriller is now available to stream on Netflix.
Also check out: "The Boy in Striped Pajamas" (2008) based on the award-winning novel by Irish author John Boyne;"The Snapper" (1993) the hilarious and heartwarming film of the Roddy Doyle book of the same name; or if you really want to torture yourself, "Leap Year" (2010). 
Have we missed your favorite? Let us know in the comments section, below.