Everything's bigger in Texas: Flozell Adams is going home to Jerry Jones' dismay.
Posted on Monday, January 31, 2011 at 02:47 PM
Recent Posts
Archives
+ 2013 archives
+ 2012 archives
+ 2011 archives
+ 2010 archives
Jerry Jones couldn't have been happier on May 22nd 2007 when the impending completion of his new stadium was awarded the 2011 Superbowl.
Everything appeared to be falling into place for the eccentric owner of the Cowboys as his team entered the season in typical Cowboy fashion. Many areas of the media both at home and abroad gave the Cowboys a great chance of going to Superbowl XLV.
Jerry Jones won't be enjoying this Superbowl matchup.
They had a team stacked with talent and a legitimate option at quarterback. A defensive guru as a head coach and one of the most highly touted young offensive coordinators in the league.
Yet an unimaginably torturous matchup has been culminated as Cowboys longtime rivals for
America's team
, the Pittsburgh Steelers and the Green Bay Packers will battle it out in Dallas.
What went wrong for Jerry Jones?
Ask Flozell Adams.
After spending 13 seasons as a Dallas Cowboy, Flozell Adams was deemed not good enough to protect Tony Romo's blindside anymore by Jones. The Cowboys replaced him with Doug Free who ultimately couldn't hold up against the pass rushers of the NFL. Pass protection was the biggest issue that the Cowboys faced and it inevitably ruined their season.
Adams on the other hand couldn't be happier approaching February 6th 2011 as he lines up at right tackle for the Pittsburgh Steelers in the Superbowl.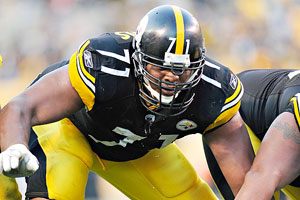 Adams has turned into a great asset for the Steelers.
Adams has excelled in the place of injured starter Willie Colon since day one of the season. He is a crucial catalyst to Rashard Mendenhall's success this year. According to ESPN's statistics, the Steelers averaged 5.9 yards per carry when running behind Adams which is the second highest in the NFL all season.
Pivotal for the Packers, according to ESPN, they give up 5.2 yards when the opposition runs to that side. This could be a soft spot on the Packers otherwise stout defense for the Steelers to exploit. The majority of the Steelers rushing yards in the playoffs have come behind the 338 lb frame of Adams as they successful run to the right hand side.
The Packers are a pressure based defense that don't often stay in their 3-4 set. The question marks over the interior of the Steelers offense gives the Packers a huge advantage as BJ Raji will be a tough task for either Pouncey or his replacement Doug Legursky. Adams battle on the outside with Ryan Pickett and Clay Matthews will shift the focus even more on the 35 year old.
Clay Matthews will need to be at his run stuffing best.
Adams is ready for the challenge and his presence is giving some of his teammates extra motivation,
"It would mean just as much, if not more, for me to win it for Flozell"
said Ben Roethlisberger. The two time Superbowl winning quarterback continued
"
To get to play in one, and it's in Dallas, I want to win one for him as much as I do myself."
Adams has won over all of his teammates to the point that many players wore replica michigan state jerseys as a tribute to the tackle arriving in Dallas today. Even before the season backup Trai Essex and usurped tackle Colon aided Adams transition from left to right tackle,
"I had some trouble adjusting with it and learning the scheme in the beginning. But I just stuck with it."
After starting his career in Dallas and playing most of his career there it would be fitting for Flozell to finish off with a Superbowl ring in Cowboys stadium next week.
Fitting, but don't think Adams takes any notice,
"I'm a Steeler. I'm just talking about the Steelers and what we're doing for this Super Bowl right now, that's all." 
www.twitter.com/ICsportscentral
Comment
Be the first to make a comment.