From the Bleachers NFL picks – Week 16
NFL Week 15results 9-7
Season to date 145-77
The Christmas picks! Ho, ho, ho! Merry everything. Happy Christmas to all of you, the nice readers, the crazy readers, the angry readers, the psychotic readers, festive season greetings one and all! As usual, feel free to put your own picks in the comments section.

Cowboys @ Cardinals


Digging deep into Santa's sack on this one, ho, ho, ho! The Cowboys have won four of their last six since the big coaching change. They look like a decent NFL team all of a sudden. The Cardinals? But wait, the end of the NFL season draws close, what have this Dallas team to play for, on Christmas day, away from their families? Arizona will be playing for customers who paid to see them on Christmas day. That means something. Somehow, they find a way...
The pick: Cardinals 24-20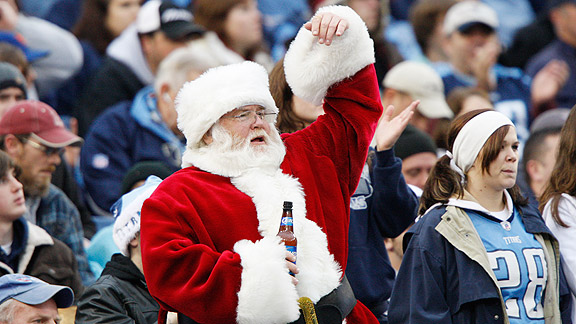 Patriots @ Bills


Before you dive in on this one, hold on to your sleighs just one second there. The Bills are on a modest but respectable two game win streak, and have been playing hard (if unlucky) football all season long. They are decent at home and will be no doubt motivated to beat their perennial AFC East bully. However, and it's a Godzilla like 'however', there is something about the Patriots that turns Buffalo to wet snow mush in the clutch. Since 2001, the Bills are 1-18 against New England. September 2003, that's the last time a Bills team beat New England. Hey, sure, streaks are there to be broken, but the Patriots are so close to the finish line, you can't see their coaching staff allowing any slippage at this late stage.
The pick: Patriots 33-24
Jets @ Bears


What's Santa bringing Rex Ryan for Christmas, a foot spa? Ho, ho, ho! Yes, yes, the Jets won in Pittsburgh last week, I'm a Lebowski, you're a Lebowski (little inside, I know!), however the Steelers did drop the game winning touchdown in the end zone with 9 seconds left. Hey, the NFL is a results oriented business, and a win in Pittsburgh is a good result, no matter what. However, this feels like a Bears home win to me. Sanchez is babying his hand, and his ego after a couple of weeks of bashing by his home town fans and press, the same people who were deifying him pre-mini-slump. In the last seven games the Bears have lost once, to the Patriots, who if you haven't noticed are putting a pretty decent season together. The Bears have beaten every body else in sight. I think they add the up-and-down Jets to their list this coming weekend.
The pick:

Bears 17-13
Ravens @ Browns


Pop, goes the Weasel. Pop also goes the Browns season, with their last two losses to decrepit Bengals and Bills teams. The Ravens meanwhile are 4-1 in their last five, including a quality win over New Orleans. Only one way to look at this one.
The pick:

Ravens 27-21