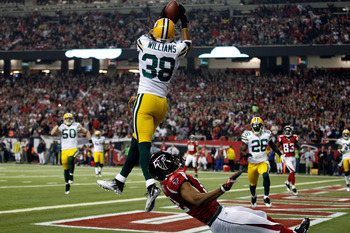 Apparently there's a football game amidst all of this media activity.
A football game that on the outset looks very similar to a game that took place two years ago in Tampa.
Santonio Holmes

The AFC sent a number one ranked defense to that game with a questionable offensive line and frail special teams unit. The NFC representatives were an unlikely low seed with a high powered offense anchored by an elite quarterback and the best receiving corp in the league.
The Pittsburgh Steelers also took part in that Superbowl and carry in the same traits that they did two years ago this season. The Green Bay Packers are a very similar team to the Arizona Cardinals that lost in Tampa.
The Cardinals lost that game in the final minute after Ben Roehtlisberger led his team down the field culminating in a touchdown pass to Santonio Holmes. Defensively the Cardinals just could not stop the Steelers when they needed to.
This is the major exception that separates the Packers and Cardinals and it could be the difference in the outcome of the game.
Matthews will need to help his
secondary with pressure.
The Packers have an outstanding defense that ranked 2nd only to the Steelers during the regular season. In 2008, the Cardinals ranked 28th in the league in defense.
That's a difference of 9.6 points per game. The Steelers beat the Cardinals by only 4 points in Superbowl XLIII.
Of course it would be foolish to say that this game would be decided that simply as the last time that both these teams met was during last season when the Steelers won a shootout 37-36. Neither defense showed up that day as both quarterbacks had huge games.
Ben Roethlisberger threw for 503 yards and 3 touchdowns without an interception while Rodgers put 3 touchdowns on the board and 383 yards. Mike Wallace caught the game winning touchdown that day as time expired over a third string cornerback.
Sam Shields got his hands on the
ball against the Bears.

The third string cornerback for the Packers this season is difficult to define and potentially could be the team's base number 1 cornerback. The emergence of undrafted rookie Sam Shields and the consistency of Tramon Williams has allowed Charles Woodson to play as the nickel corner in pass inclined defensive sets.
Shields and Williams have combined for 5 interceptions this postseason and will need to continue that trend if the Packers are to win this game. The Cardinals secondary two seasons ago were the main reason that the team went back to Arizona empty handed. The Cardinals managed one interception that day, a tipped pass that hung in the air long enough for linebacker Karlos Dansby to get his hands on the ball.