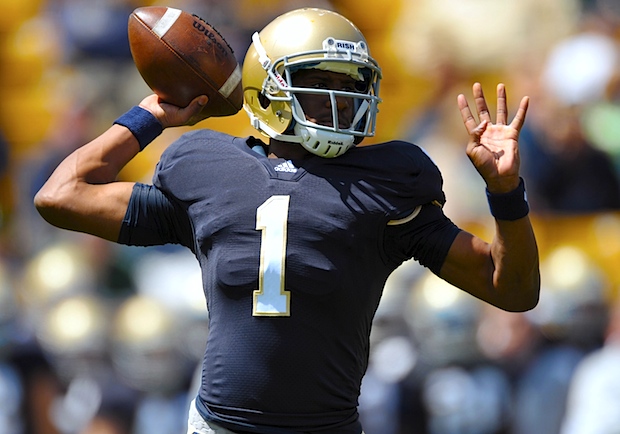 The setting was different. The sport was different. The two teams won't be playing again. Yet, the similarities largely outnumbered the differences. One side felt joy. One side felt heartbreak. One team won. One team lost.
Six days before Navy and Notre Dame do battle in the Emerald Isle Classic, Cork and Donegal clashed in a completely different sport in Dublin. Instead of welcoming an international audience, Cork and Donegal celebrated Irish sport with the semi final of the All-Ireland Gaelic Football Championship. Despite the fact that neither sets of teams likely had any notion about the others' sports, there were unmissable aspects of the Irish sporting event that will be on show this weekend in the nation's capital.
Gaelic Football and American Football aren't as dissimilar as one would immediately think. In case you don't know, Gaelic Football is somewhat of a variation on soccer while American Football is much closer to rugby. The size of the pitch, the rules, the skill-sets of the players and even the venues are completely different. However what Donegal brought to Croke Park in their victory over Cork on Sunday, is exactly what Navy and Notre Dame will be looking to bring this coming Saturday.
Certain aspects of team sports transcend any genres or particular boundaries.
On Sunday, Donegal approached their Gaelic Football game, in the way every single American Football coach wants his team to approach their games. Leading up to Sunday, there was very little evidence that said Donegal had more talented players. Cork carried sharpshooter forwards with bloated reputations and a mean group of defenders with as much experience as any other. Donegal? They had one or two players known nationally, but were predominantly relying on their work-rate as a team to carry them to victory.
Not only did that work-rate win out, but convincingly so.
Donegal entered the game with a precise gameplan that was executed to perfection. Their scheme frustrated Cork, while their talented players complemented each other excellently. Donegal's weakest link couldn't be pointed to, while Cork's chain to success had wide gaps that were being exposed. When it comes to American Football, that is essentially the game.
So even though the shape of the pitch, the ball and the players was completely different, Donegal's victory was a fitting build-up for the big game this Saturday. Gaelic Football, and its partner sport Hurling, is a national sport in Ireland known for its passion and pride. Pride and passion is what fuels the game of college football in America. Much like the divisions between counties in Ireland, each member or alum of each college in America proudly wears their respective crest on gamedays.
It is those similarities to European sports that will make this game a showcase for an International audience that is either ignorant of the game or currently uninterested. Because of upgraded coverage of both the professional and college levels of the sport on this side of the world, the fanbase of American Football in Ireland has been swelling in recent seasons. Over 15,000 tickets, the remaining part of the 50,000 capacity in the Aviva Stadium after the American allocation was sold out, were quickly snatched up by fans while many more continue to try and find ways into the game.
For those fans who can't make it to the game, a series of high school teams will participate in a Global Ireland Football Tournament that is designed to celebrate the game across the country while promoting it at the same time. While many ardent fans of other sports will turn their noses on principle, those who are passionate about sports opposed to just a single sport, should be enthralled by the examples shown by both the college and high school teams.
You see this game is much more than the season opener for Notre Dame and Navy. It's much more than just another NCAA Football game. It's even much more significant than a trip to remember for the fanbases traveling over the Atlantic. As the second game of football between these two teams to be held in Ireland, the first coming in 1996, every onlooking football fan in America will be trying to accurately judge the reception the game receives.
Much like the beta test of a new product, NCAA President Mark Emmert will be watching on to judge whether further ventures across the world would be a worthwhile exploration for future football games. It's not just the NCAA however. You can be certain that NFL Commissioner Roger Goodell will be keeping a close eye on proceedings. Goodell has already established one International Series each year in London, but is believed to be looking to expand to other stadiums and add more games. Dublin has been touted as a potential next step with long-time NFL owner Dan Rooney being the American Ambassador for Ireland.