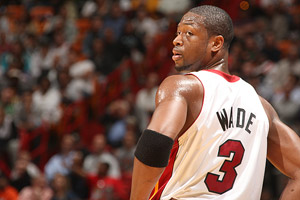 Los Angeles Lakers v Miami Heat
5:00pm ET/10pm GMT. 25/12/10
PG




Derek Fisher:

Fisher is the elder statesman of the Los Angeles Lakers. While Kobe Bryant is undoubtedly the leader of this team, Fisher's experience in the league is just as vital to a team that every game is a big game. Fisher's value to his team is not evident in his stats. Fisher averages 7.4 points, 2.7 assists and 1.5 steals per game this season. His real value to the team is his teamwork and defensive stability. Fisher is the unsung hero in the starting line up as he allows other players to dominate the stat sheet while he continues to be part of teams that pick up championships.




Fisher-7/10




Carlos Arroyo:

Similarly to his opposing Point Guard, Arroyo's stats are not reflective of his level of play this season. Being one of the two non Big Three starters on the Miami Heat comes with that handicap. Arroyo has been a reliable performer for the Heat splitting time with Mario Chalmers at the point guard position. His stat line reads 6.7 points, 2.1 assists and .3 steals per game. His lowly assist total is reflective of the fact that the ball is often out of his hands in the half court offense. Arroyo is not known for his shooting but has managed 49% from the field, 5% higher than his career average.




Arroyo-6.5

SG:

Kobe Bryant:

Bryant leads the team in points per game, 25.9, and assists per game, 4.6, which isn't news to anyone. Bryant is also battling a minor finger injury coming into the game but he is expected to play, which is also not news to anybody. Bryant is averaging less points and assists this season compared to last but that is mostly due to the increased time Pau Gasol is on the floor due to the injury to Andrew Bynum.

Bryant-9.5

Dwayne Wade:

Wade has overcome his early season struggles after suffering an injury and dealing with off court issues that made him miss the preseason. Wade is averaging 23.5 points per game with 4.3 assists per game but what is most notable about his play as of late is how he and Lebron James have figured out how to play together. Wade and Lebron's combinations are vital to the speed of the Heat's offense.

Wade-9

SF

Ron Artest:

Apart from his erratic character, Ron Artest will bring a big defensive presence to the defensive side of the ball for the Lakers without being a liability on the offensive end. Artest is contributing 7.7 points per game with a team leading 1.6 steals per game. Artest is a solid shooter, hitting 42% of his shots, who often gets open looks because of the talent that is around him.

Artest-7

Lebron James:

James is leading the team in Minutes(37.2), Points(24.3) and Assists(7.2) The reigning two time M.V.P has shown that he can produce whether it be Miami or Ohio but has found himself playing much more of the point guard role this season. The change in style may be startling but James all around ability hasn't left him and neither has his claim to being the best player in the league.