Having a Halloween party and in search of some scary and delicious finger food? We got you covered!
DEVILED EYEBALLS
Makes 12
Ingredients:
6 large hard boiled Eggs
3 tablespoons mayonnaise
1 tablespoon sugar
1 teaspoon honey mustard
½ teaspoon vinegar
½ teaspoon salt
¼ teaspoon pepper
¼ teaspoon paprika
Sliced black olives (optional)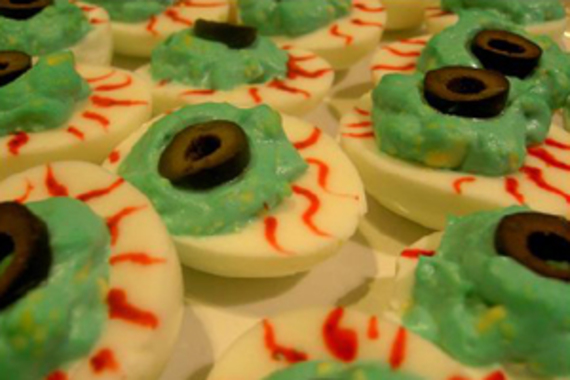 2
Method:
Put eggs in a pan and add water enough to cover eggs completely.
Add a teaspoon of salt to the water. This will prevent the whites from running if a shell breaks during cooking.
Bring water to a boil, and cook eggs at a medium boil for about 12 minutes.
Chill eggs in ice water.
Remove shells from eggs.
Cut each egg in half lengthwise.
Carefully remove the yolks, and place them in a medium bowl.
Mash yolks with a fork.
Add remaining ingredients, blending until rather smooth.
Very carefully spoon mixture back into the egg whites.
Now to make these into DEVILED EYEBALLS follow these steps:
Step 1: Follow the recipe for deviled eggs
Step 2: If desired, add a drop of blue food coloring (or a dollop of guacamole), to give the eyeballs a greenish appearance.
Step 3: Slice some green or black olives crosswise.
Step 4: Place an olive slice in the middle of each egg.
Step 5: Give the eyeballs a bloodshot look by dripping beet juice onto the white of each egg, starting from the center and moving outward toward the edge.
Want to try more traditional Irish recipes? You can find them all here or on IrishCentral's recipe Facebook page.
* Originally published 2009.