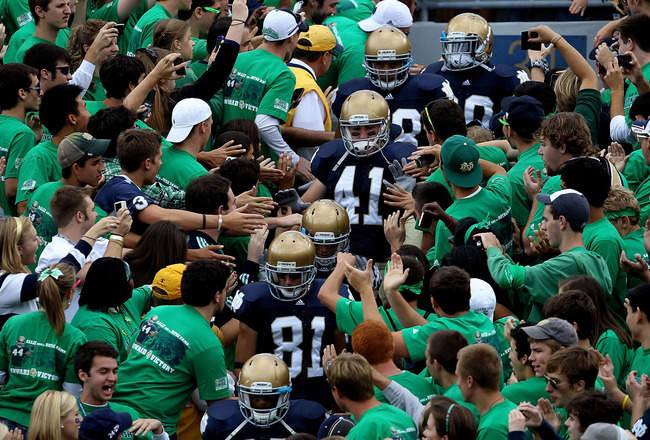 Senior Day at South Bend
This "Holy War" rivalry may not have quite the same buzz it's had in other years......Boston College is just 3-7 and struggling through its worst season in 13 years, but the game is still an important one for the Irish (7-3). They've climbed back into the Top 25 with three straight wins, and could equal last year's victory total by beating Boston College.
The Fighting Irish are likely to miss a BCS bowl for a fifth straight year, the Irish would match their best record of the last decade if they beat Boston College and Stanford and win their Bowl game.
It is also Senior day, the last game at Notre Dame Stadium for Seniors such as captain Harrison Smith, Michael Floyd, Kapron Lewis-Moore, Ethan Johnson and Jonas Gray, to name a few.
No. 24 Notre Dame's game against Boston College on Saturday is the equivalent of the Super Bowl for the extended Kelly clan........Kelly grew up in an Irish-Catholic family in the Boston area.
"There's a lot of requests for tickets," Kelly said Tuesday. "I don't even pick up the phone."
Notre Dame Run Offense vs Boston College Run Defense
The Irish won't face a better linebacker this season than Boston College's Luke Kuechly. He leads the country in tackles (168) and solo tackles (89) after 11 weeks. He has hit double digits on the stat sheet in his past 32 games and is the glue that holds Boston College's run defense together. The Eagles give up 153.0 yards per game on the ground and 4.1 yards per carry.... numbers that don't jump off the page, but they could be much worse without Kuechly.
The Irish running backs have picked up major chunks on the ground this year. After amassing 212 yards against Maryland, the Irish were averaging 177.4 yards per game and 5.4 yards per carry.Consistency in the run game has cured Notre Dame's early season red-zone woes and been a major factor in closing out close games.
EDGE: Notre Dame
Notre Dame Pass Offense vs Boston College Pass Defense
The Irish rank 37th in the country with 258.9 passing yards per game. Sophomore QB Tommy Rees has had help from All-American candidates Michael Floyd (77 catches for 922 yards) and Tyler Eifert (51 receptions for 589 yards), who led all tight ends nationally in catches heading into the Maryland game. With Theo Riddick's absence against Maryland, Junior WR Robbie Toma filled in more than admirably.
The Eagles have a lot of size in their defensive backfield, including 6-4 cornerback Jim Noel and his 6-1 counterpart, Donnie Fletcher, and have held opponents to only seven passing touchdowns through 10 games. The Eagles have the size to lock down some of Notre Dame's weapons, but sticking with them will be difficult, especially for a defense that ranked 114th in sacks per game (0.9). Rees was sacked three times against Maryland to snap a five-game streak of perfect protection.
EDGE: Notre Dame
Notre Dame Run Defense vs Boston College Run Offense
The Eagles took a blow when they lost senior running back Montel Harris, the preseason ACC Player of the Year, for the season on the first day of October. He has been replaced by sophomores Rolandan Finch and Andre Williams (also injured in October before recovering). Finch led the team with 577 yards after nine games, with 243 of those yards coming in Boston College's win over Maryland on Oct. 29. Playing without their star back and with an uncharacteristically young offensive line, the Eagles averaged only 3.7 yards per carry in their first 10 games.
Notre Dame had the potential to have one of the stiffest run defenses in the country this year, but a myriad of injuries relegated them to an "above average" title. Junior linebacker Manti Te'o has been hobbled by an ankle injury for the majority of the year, and the Irish went without both starting senior defensive ends for several weeks before Ethan Johnson returned against Maryland. Still, they have given up only seven touchdowns on the ground so far this year.
EDGE: Notre Dame
Notre Dame Pass Defense vs Boston College Pass Offense
Out of the 100 players who have thrown enough to qualify, sophomore Chase Rettig ranked dead last in passing efficiency through nine games, and he dropped out of the top 100 this week. Rettig completed only 53.1 percent of his passes and threw as many interceptions (nine) as touchdowns in the first 10 games of the season. His top two targets are sophomore wide receiver Bobby Swigert (35 catches for 356 yards) and junior wide receiver Colin Larmond (31 grabs for 500 yards).