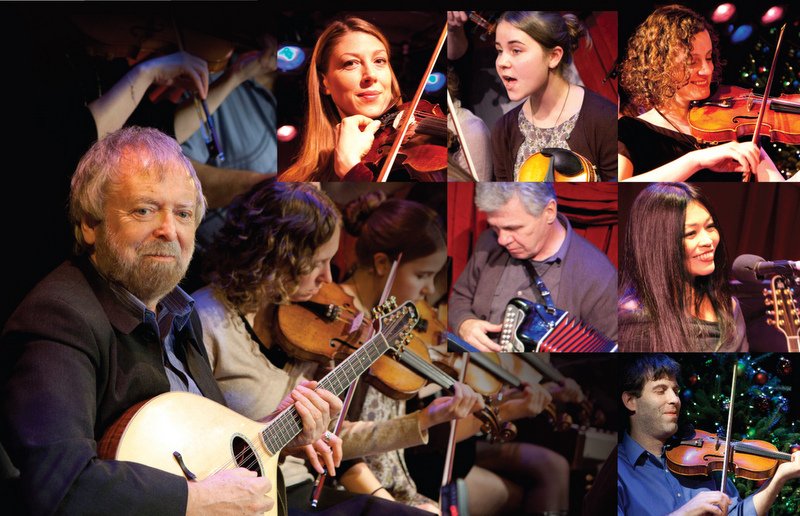 An Irish Christmas at IAC
Cross-cultural currents ebb and flow around New York for the holidays. For starters, for many in New York the holiday in question is Hanukkah, which is already upon us and celebrated for eight days starting this Saturday. And all those who celebrate Christmas do so in traditions spiced by countries around the world. Russians, Greeks and other Orthodox Christians even celebrate Christmas on a different day (actually, in a different year, on January 7, 2013) or more likely both days -- while Soviet-era Russians traditionally focused on New Years Day, when many of the rest of us have gone a bit out of focus.
And some recall the pagan roots of a mid-winter holiday, among them the Irish. An Irish event that began six years ago is already taking on the burnished glow of "tradition." 
"An Irish Christmas: A Musical Solstice Celebration," 
runs for 13 likely to be sold-out performances, Dec. 7-22 at the Hell's Kitchen citadel of contemporary Celtic culture, the 
Irish Arts Center
.
Hosted by traditional Irish music legend, folklorist and a man who earned his cross-cultural cred staging a show called 
"If It Wasn't for the Irish and the Jews," 
Mick Moloney
 has built the program around an eclectic mix of tunes ranging from the traditional to the contemporary.
"There's something magical about the dark days of winter in Northern Europe, when the Earth goes into a deep transformative, regenerative hibernation, with only the magical evergreens defying the forces of nature," Moloney said. "The mid-winter solstice has always been, culturally, a time for reflection on the big issues we all live with, particularly the themes of life, death and renewal. The rituals and celebrations of mid-winter give us a chance to take some time off from daily routines and enter into the realm of the creative imagination for which we Irish are now known throughout the world."
Spinning the solstice themes of life, death and renewal will be performers with cult followings of their own, and they're not all Irish. Along with Moloney who will sing, pick the banjo and mandolin, will be co-star, fiddler 
Athena Tergis
 of 
Riverdance
 fame, button accordionist 
Billy McComiskey
, singer/fiddler Liz Hanley, step-dancer 
Niall O'Leary
 and numerous special guests, including versatile jazz singer 
Tamar Korn,
Filipino performer, chanter and jazz vocalist 
Grace Nono
, and a shanachie or storyteller in 
Macdara Vallely
, originally from Northern Ireland.